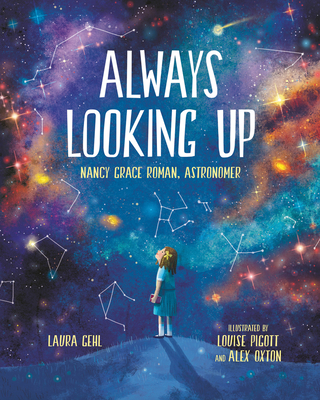 Always Looking Up
Nancy Grace Roman, Astronomer (She Made History)
Hardcover

* Individual store prices may vary.
Description
This empowering picture book biography tells the story of Nancy Grace Roman, the astronomer who overcame obstacles like weak eyesight and teachers who discouraged women from pursuing astronomy to lead the NASA team that built the Hubble Space Telescope. A testament to women in scientific careers and a record of an important NASA milestone.
Praise For Always Looking Up: Nancy Grace Roman, Astronomer (She Made History)…
"This biography for children tells the story of the astronomer who spearheaded the Hubble Space Telescope project. When Nancy Grace Roman (1925–2018) was young, she loved the night sky, which was always the same, no matter where her father's job took the family. She formed a school astronomy club and learned more about constellations, meteors, and planets. In high school, she "asked questions her physics teacher could not answer" and took an extra algebra class. Roman's college professors tried to discourage her, as a woman, from studying science and math, but she excelled in her studies, continuing on to graduate school and becoming an astronomer. She observed stars, worked with radio telescopes, and gave astronomy lectures. Roman then joined the newly created NASA in 1959 as the first chief of astronomy, eventually becoming director of the Astronomical Data Center. Realizing that astronomers needed a telescope in space that wouldn't be blocked by our atmosphere, Roman led a team of scientists on the Hubble Space Telescope project, testifying successfully before Congress on the need for funding. The Hubble, when finally built (and repaired in space), gave crystal-clear images of astronomical objects, earning Roman a nickname: the "Mother of Hubble." An author's note about Roman and a timeline of her life are included. Gehl (Baby Botanist, 2019, etc.), a prolific writer for children, explains the facts of Roman's life in a compelling way. Information from the timeline, such as when Roman was born and what degrees she earned, could have been better integrated into the story for more context. However, Gehl clearly conveys her subject's childhood excitement about the cosmos and her determination, "as fiery as a supernova," to learn more and fire up others. The story of the Hubble itself is also well told, with marvelous descriptions accompanied by illustrations: "comets hurtling into Jupiter; dust storms on Mars; nebulae shaped like a butterfly, a crab, a tarantula." The very appealing, nicely detailed images by Pigott (El Tucán y La Tortuga, 2019, etc.) and debut illustrator Oxton capture Roman's character, as well as the magic of the night sky. An inspiring book about an influential scientist and the allure of the stars." —Kirkus Reviews
Albert Whitman & Company, 9780807502969, 32pp.
Publication Date: October 1, 2019
About the Author
Laura Gehl is the author of several picture books, including Delivery Bear, and a former science and reading teacher. Louise Pigott creates vibrant, detailed, and atmospheric illustrations for children's books and greeting cards that have appeared around the world. Alex Oxton grew up in the East Midlands of England and studied illustration at university. An avid competitive player of real-time strategy games like Starcraft and Age of Empires, she initially set her sights on becoming a video game concept artist, but fell in love with children's book illustration during her studies.