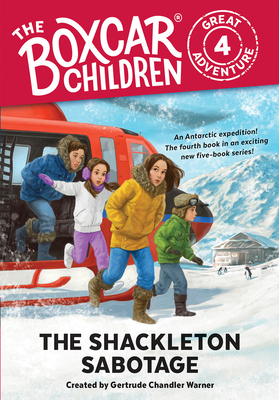 The Shackleton Sabotage (The Boxcar Children Great Adventure #4) (Hardcover)
Albert Whitman & Company, 9780807506875, 160pp.
Publication Date: August 1, 2017
* Individual store prices may vary.
Description
In this all-new very special miniseries, the Aldens have been recruited by a secret society to return lost artifacts and treasures to their rightful locations—all around the world! The Aldens chart a course for Sydney, Australia, and as the children tour the famed Sydney Opera House, their next puzzle—and its key—falls right into their laps. They need to find the rightful owner of a rare Australian coin. Using their knowledge about Australia, the Aldens find the coin's owner, but a saboteur is again hot on their heels and nearly spoils their hard work. Next up the Aldens travel to frigid Antarctica, where they need to return an artifact to the hut Shackleton used on his expeditions to the South Pole. The trip is a success, but when the Aldens return, they learn the identity of the person who has been trying to ruin their plans. Will the saboteur keep them from returning the seventh and final artifact?