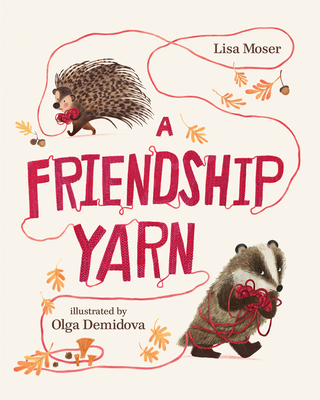 A Friendship Yarn
Hardcover

* Individual store prices may vary.
Description
Porcupine and Badger have always been the best of friends, so when Porcupine finds some yarn in the woods, she makes a present for Badger. And when Badger finds yarn, she makes a present for Porcupine. The only problem? It's the same yarn—and to finish the gift, they each must unravel the other's creation. An act of kindness turns into a fierce standoff as the friendship frays—can Porcupine and Badger set aside their differences and knit themselves back together?
Praise For A Friendship Yarn…
"Sweet... Demidova's colorful illustrations depict a lovely forest setting and a swirling strand of red yarn." — Kirkus Reviews

"This is a cozy tale about sharing, caring, friendship, and truly unique stitchery." — Foreword Reviews

"Badger and Porcupine are good friends who are preparing for winter. As they split up to gather firewood, a ball of yarn tumbles out of a peddler's cart and stretches across the forest. Porcupine and Badger each pick up one end of the yarn and take it home. In a "Gift of the Magi" moment, Badger and Porcupine decide to knit a gift for the other. Unfortunately, as the animals near the end of their projects, both the backpack and tablecloth completely unravel. Badger and Porcupine discover the rest of the yarn at each other's houses. They fight over possession of the yarn and decide to make various things for themselves instead. They become so angry that they declare an end to their friendship, cutting the yarn in half. But soon after, they have compassion for each other in the cold, and present each other with matching hand-knitted sweaters. The illustrations have a retro, animated look that enhance the story. Best for one-on-one sharing, and perhaps a discussion on misunderstandings that can occur among friends." — Booklist
Albert Whitman & Company, 9780807507629, 32pp.
Publication Date: September 1, 2019
About the Author
Lisa Moser is the author of ten children's books, including Stories from Bug Garden and Squirrel's World. She graduated from The University of Iowa and taught fifth grade in Worthington, Ohio. Lisa lives in Wisconsin with her husband and daughter and writes beside trees and streams with her loyal dog. Olga Demidova studied traditional applied arts and animation in Moscow and spent years working in animation before illustrating children's books. She always tries to stay positive and see happy little things in everyday life that will encourage those who see her drawings.