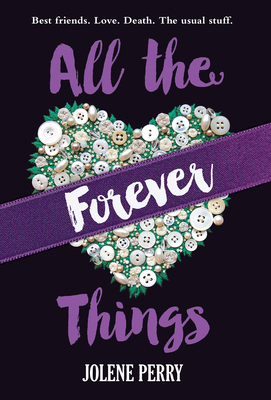 All the Forever Things (Hardcover)
AW Teen, 9780807525326, 272pp.
Publication Date: April 1, 2017
Other Editions of This Title:
Paperback (4/1/2017)
* Individual store prices may vary.
Description

From growing up in the funeral home her family runs, Gabriella knows that death is a part of life and nothing is forever. Yet Bree, her best friend, has been a constant; it's always been the two of them together against the world. But when Bree starts dating a guy—the worst guy— from that ultra-popular world, suddenly she doesn't have time for Gabe anymore. Now the only one at school who wants to spend time with "Graveyard Gabe" is Hartman, the new guy, but Gabe, not wanting to lose her mind over a boyfriend the way Bree has, holds back. It takes a very strange prom night (with the family hearse instead of a limo) for Gabe to truly fall for Hartman. But when she leaves the after-prom party with him, she's not there for Bree—or for the deadly accident that happens that night. Bree survives, but will she and Gabe ever be able to rebuild their friendship?

About the Author
Jolene Perry has a degree in political science and has taught middle school and high school. Her previous novels include The Summer I Found You, Stronger than You Know, and Has to Be Love. She lives with her husband and family in Alaska.
Praise For All the Forever Things…
"An interesting and unusual romance." —Kirkus Reviews
"Perry has crafted vivid, round characters who navigate complicated, mature questions about death and dying with sincerity . . . . A layered novel about love and forgiveness in the face of loss." —Booklist
"Larger than just a story about broken friendship, new romances, and death. Both the ending and the funeral home setting make this book stand out." —VOYA