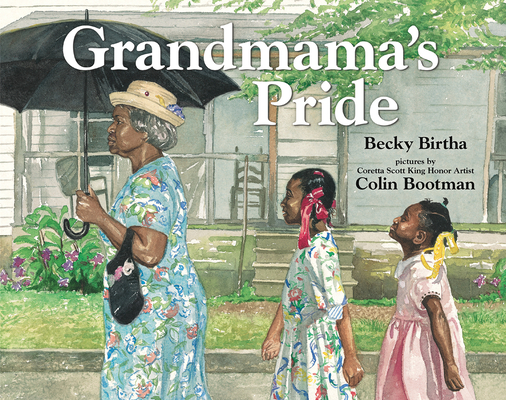 Grandmama's Pride (Paperback)
Albert Whitman & Company, 9780807530221, 32pp.
Publication Date: November 1, 2016
Other Editions of This Title:
Hardcover (1/1/2005)
* Individual store prices may vary.
Description

Six-year-old Sarah Marie, her mother, and her little sister travel down south to visit Grandmama in the summer of 1956. Grandmama makes every effort to shield her granddaughters from the prejudice that still plagues her town. But as Sarah Marie learns to read, she notices Grandmama's town is filled with signs and rules that she's never understood before. As Sarah Marie tries to make sense of the world around her, she's left wondering if life in the South will ever change.

About the Author

Becky Birtha often traveled by bus as a child to visit family in Virginia. Remembering those trips gave her the idea for Grandmama's Pride. She lives in Pennsylvania.



Colin Bootman was born in Trinidad. He moved to the United States when he was seven, but the vibrant palette of the Caribbean has always influenced his painting. In 2004, he received a Coretta Scott King Illustrator Honor Award. He lives in New York.