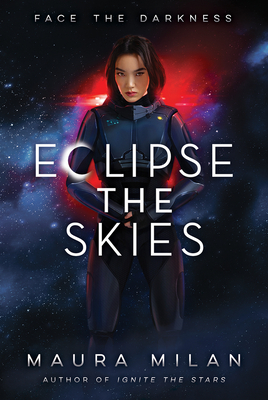 Eclipse the Skies (Ignite the Stars #2)
Hardcover

* Individual store prices may vary.
Other Editions of This Title:
Paperback (9/1/2020)
Description
Ia Cōcha never thought she'd be working for the Olympus Commonwealth. But that was before she found out her trusted brother Einn was trying to tear apart the universe. Now, Ia, the Blood Wolf of the Skies, has agreed to help the Royal Star Force on one condition: when she finds him, she gets to kill Einn herself. 

Brinn Tarver has just come to terms with her Tawny identity when the public lashes out against her people, crushing her family. At her breaking point, she starts to question everything she believes in—including Ia. 

After the death of his mentor, Knives Adams is doing his best to live up to a role he didn't ask for as Aphelion's new headmaster. Still, with each new step deeper into war, he feels torn between his duties and the pull of Ia's radical—sometimes criminal—ideas.  

As they fight to keep darkness from eclipsing the skies, their unpredictable choices launch this breathtaking sequel to explosive new heights. 
Praise For Eclipse the Skies (Ignite the Stars #2)…
"Wormholes, chaos, and soul-searching dominate in this thrilling follow-up to Ignite the Stars (2018). Ia Cōcha, once the universe's most feared criminal, cooperates with the Olympus Commonwealth to hunt down her brother, Einn, who is hellbent on tearing open the universe. Half-Tawny Cadet Brinn Tarver fears for her family's safety as her younger brother, Faren, joins refugee communities in protesting the potential termination of the Sanctuary Act that protects them. Knives Adams is suddenly appointed as Aphelion's new Headmaster by his father, General of the Commonwealth's Royal Star Force. Even as war rages on around them, war also rages within them. Knives feels lost in his new role and unable to match the greatness of his deceased sister, Marnie, and mentor, former Headmaster Weathers. Ia's controlling nature pushes Brinn to question her own purpose and side with an unlikely ally. After nearly facing death at the hands of Einn again, Ia's self-confidence collapses. The constant shifts in perspective feel hasty, but each protagonist's emotional growth is interesting to witness—Brinn's most of all. Other fascinating characters, such as Goner, Ia's chameleonlike supposed archnemesis, and Kami, an unexpectedly powerful being with otherworldly abilities, season the narrative and will leave readers hungry for more information about the m. Characters are racially diverse but only refugee heritage is significant here.Readers will only be disappointed if there isn't at least one more installment." — Kirkus Reviews

"Picking up where Ignite the Stars (2018) left off, Ia is discovering the extent of her brilliant, power-crazed brother's plans, which include re-creating a rip in the universe in order to reach their dad. To achieve this end, he's perfectly okay with destroying the empire and ignoring the many casualties, enemies and innocents alike. Ia, on the other hand, has friends to protect, including potential love interest Knives and best friend Brinn, and she's committed to stopping the man wearing the horned helmet. Readers will want to start with the earlier book so that they fully grasp the political and familial relationships that power this space opera. In fact, family—both born and made—is at the heart of the story: what would you sacrifice, and for whom, in order to protect a system you don't believe in and people you don't know? The bittersweet ending is satisfyingly complete yet ambiguous, leaving open a possibility but not the certainty of more." —Booklist
AW Teen, 9780807536384, 400pp.
Publication Date: September 3, 2019
About the Author
Maura Milan received her BA in Film Production from USC's School of Cinema-Television and currently lives in Los Angeles, where she works in video production.
or
Not Currently Available for Direct Purchase