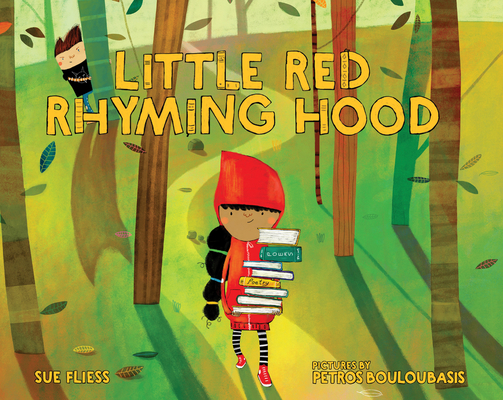 Little Red Rhyming Hood
Hardcover

* Individual store prices may vary.
Description
Because Little Red only speaks in verse, it's tough for her to make friends. The schoolyard bully, Big Brad Wolf, is always picking on her. One day, her grandma shows her a flyer for a poetry contest, and Little Red thinks it could be her big chance to make a friend. But on the day of the contest, Big Brad Wolf sneaks up on Little Red and scares the rhyme right out of her—and into him! How will they rhyme their way out of this dilemma?
Praise For Little Red Rhyming Hood…
"Rather than walking through the forest with delicious pastries for grandma, this Little Red is a poet with endless rhymes. In this fractured retelling of "Little Red Riding Hood," a little girl with light-brown skin and long, black hair is bullied for speaking exclusively in rhyme: "Want to ride the swings with me? / Race our bikes or climb a tree?" The other children find this strange, especially Big Brad Wolf, a light-skinned, chinless boy with blue eyes and a shock of brown hair who takes to teasing the girl known as Little Red Rhyming Hood. She puts on a brave face with lines like: "You don't bother me, Big Brad / Nasty words won't make me sad." In reality, she is affected by his bullying. When Big Brad scares the rhyme right out of Little Red and into him, the two must find a way to work together to write a poem for Little Red's poetry contest. In Bouloubasis' bold and bright illustrations, the stylized characters come to life, especially Little Red with her charming personality and tough exterior. This refreshing take on a classic fairy tale touches lightly on the subject of bullying; even though Brad's quick reformation into a poet seems too good to be true, this is an enjoyable picture book nonetheless. This endearing fairy-tale retelling will bring joy to literary-themed storytimes." — Kirkus Reviews

"In this spin-off of the original "Red Riding Hood" tale, Big Brad Wolf bullies a young girl who speaks only in rhyme until the two find a way to merge their talents. Shunned because of her rhyming and teased constantly by Brad, the girl complains to her grandmother, who tries to "cheer her up" by making her a red, hooded sweatshirt. The youngster wears it constantly and becomes known as "Little Red Rhyming Hood." When a poetry contest is announced, Little Red plans to enter and meet other poetry lovers. She is so absorbed while practicing that she doesn't hear Brad sneak up on her, causing her papers to scatter and her rhyming ability to leave her and transfer to him. The solution: they work together, win the contest, and become friends. The brightly colored cartoon illustrations depict a cast of apple-cheeked, multiracial children. Little Red, who carries poetry books with her everywhere, and her grandmother, are dark-skinned and have long hair tied in segments reaching below their waists. Grandma has an old-fashioned Victrola, and shelves of books appear everywhere in her home. While the hug Brad gives Little Red, a device used to reverse their speaking patterns, may give adults pause, this additional purchase is useful for discussions of bullying as well as for sparking an appreciation of poetry. VERDICT Another fun title from the creative team behind Mary Had a Little Lab."—School Library Journal

"This riff on Little Red Riding Hood pits an unusual, brown-skinned girl against the playground bully, Big Brad Wolf. Red is only able to speak in rhyming couplets, which is enough to draw the ire of Brad, a stout,white kid with thick hair and a wolf T-shirt (the wolf's expression changes with the action). The story follows the typical stages of being bullied: Red is targeted, she tries to cope but is upset, she attempts to hide (at Grandma's house), and then she is further singled out by Big Brad Wolf. A switch comes when Brad scares Red so badly that the poetry magically flies out of her and into him. The resolution, with both kids teaming up in a poetry contest and finishing each other's rhymes, is funny but doesn't quite work as a solution to bullying. Along with the rhyming text, the bright, quirky patterns of Bouloubasis' illustrations should propel young readers through this contemporary tale."—Booklist
Albert Whitman & Company, 9780807545973, 32pp.
Publication Date: October 1, 2019
About the Author
Sue Fliess is the author of numerous books for children, including Mary Had a Little Lab, From Here to There, A Fairy Friend, Shoes for Me!, Calling All Cars, and The Hug Book. She lives with her family in Virginia. Petros Bouloubasis graduated from the Graphic Design Institute of Athens. He lives in Athens, Greece.
or
Not Currently Available for Direct Purchase