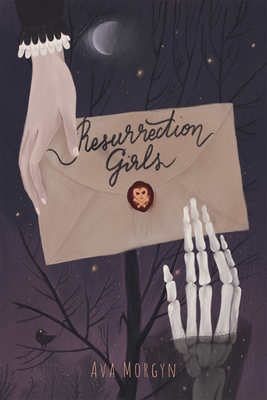 Resurrection Girls
Hardcover

* Individual store prices may vary.
Other Editions of This Title:
Paperback (10/1/2020)
Description
Olivia Foster hasn't felt alive since her little brother drowned in the backyard pool three years ago. Then Kara Hallas moves in across the street with her mother and grandmother, and Olivia is immediately drawn to these three generations of women. Kara is particularly intoxicating, so much so that Olivia not only comes to accept Kara's morbid habit of writing to men on death row, she helps her do it. They sign their letters as the Resurrection Girls.

But as Kara's friendship pulls Olivia out of the dark fog she's been living in, Olivia realizes that a different kind of darkness taints the otherwise lively Hallas women—an impulse that is strange, magical, and possibly deadly.
Praise For Resurrection Girls…
"Ava Morgyn's passion and tenderness shine like a candle, guiding readers through the darkness of Olivia's story. Her compelling characters are made all the more real by the eerie undertow of myth. A beautiful, deeply emotional debut!" — Sarah Porter, author of Vassa in the Night and Never-Contented Things

"Resurrection Girls is a powerful examination of grief and loss, captivatingly woven with magic and ultimately hope. A compassionately rendered debut." — Emily A. Duncan, New York Times bestselling author of Wicked Saints

"Resurrection Girls is a heartbreak of a book, where love and loss write letters to the strange things that lurk in the darkness. It's a stunning story that blends the inexplicable and the beautiful with the bittersweet." — Rin Chupeco, author of "The Bone Witch" trilogy and The Never Tilting World

"A raw, poignant, unflinching examination of grief and healing wrapped up in a compelling story. Resurrection Girls is a brilliant debut." —C.J. Redwine, New York Times bestselling author of the Ravenspire series

"Three years ago, Olivia Foster's 3-year-old brother, Robby, drowned in the backyard pool while she flirted with her crush, Prescott Peters.Since then, the pool has been filled in, her mother rarely emerges from her room, her dad's work hours have mysteriously gotten longer, and 16-year-old narrator Olivia occasionally raids her mother's prescription pill stash to dull her own pain and guilt as she assumes a lion's share of the responsibility at home. The scorching Houston summer takes a transformative turn when Kara Hallas moves into the long-vacant house across the street with her cigar-chomping maternal grandmother, Sybil, and flame-haired mother, Rhea. The wild and vibrant Kara is a magnet for everyone, including Prescott, whom Olivia has barely seen since Robby's death. Friendship, and maybe something more, blooms, and Kara convinces Olivia to help her write letters to death row inmates as the Resurrection Girls, claiming that they're giving them hope in their last days. A dark and unearthly something simmers in Kara that awakens a fire in Olivia and may be the key to finding a way out of the 'endless parade of days' they've marched through like 'automatons' since Robby's death. The lovely, assured prose draws on ancient archetypes and a lingering sense of dread to pave the way for a strange but satisfying conclusion. All characters are assumed white (the Hallas family are Greek American). Morgyn's supernaturally tinged debut is a heartbreaking but hopeful exploration of death and grief" — Kirkus Reviews

"It's been three years since Olivia Foster's younger brother drowned in the family's swimming pool, an accident for which she feels responsible. She has lived in a veritable vacuum ever since. Now 16, Olivia's life changes when Kara Halles moves into the house across the street, along with her mother and grandmother. Reckless, fearless Kara convinces Olivia to venture out and even join in Kara's pen-pal correspondences with 'lifer' convicts. Fantasy and realism meld in the heat of the Houston summer as the teens wade deeper into drugs, alcohol, and lightly macabre activities; meanwhile, Olivia and her parents finally begin to emerge from their sorrow-induced hibernations. As hope begins to infiltrate their grief, things take a bizarre turn when the Halles women disappear as mysteriously as they had appeared. Debut author Morgyn began writing Resurrection Girls before her own daughter died, but spent the year following incorporating an understanding of the deep sorrow wrought by a child's death. It is a raw, captivating exploration of grief, friendship, and the reclamation of life." — Booklist

"Starred Review. Mystical and paranormal while at the same time all too real in its portrayal of grief, Ava Morgyn's searing Resurrection Girls is a refined, startling debut that brims with authorial skill. Though geared toward young adults, it doesn't shy away from adult conversations about death and its destructive power. Captivating, enchanting, and slightly macabre, the story centers on Olivia, who's barely coping with the death of her younger brother a few years ago. His memory haunts the household, driving her father's absence and her mother to drugs. Then the Hallas women move in across the street. Something isn't quite natural about them, and the distraction is just what Olivia needs. The youngest of the Hallas women, Kara, is confident and otherworldly. Kara has a morbid side, but she's also eager to shake Olivia out of her grief-stricken stupor. Resurrection Girls is first striking because of its arresting, gorgeous prose. Every line is crafted in a tender way and with obvious skill. The text is full of slick metaphors and genuine introspection. Literary without being too verbose, the sheer language of the story qualifies it as a fantastic read. The book's characters and story are just as outstanding. Olivia is deep and authentic, especially as she interacts with her childhood crush, Prescott, and with mysterious Kara. Her grief colors the novel's rich, dark tones, grounding its speculative elements in the harsh reality of loss and helping it to straddle the realms of realism and surrealism in an expert way. Only the book's final turn toward the overtly fantastical is abrupt. Resurrection Girls is a promising debut from a talented writer. Equipped with hypnotic prose, tangible characters, and an immersive environment, it handles the heavy reality of grief with a healthy dose of the supernatural."—Foreword Reviews

"Sixteen-year-old Olivia Foster and her family have not moved on since her little brother Robby's death three years ago. Her mother numbs herself with pills, her dad is mysteriously absent, and Olivia lives in a fog believing her brother's death was her fault. Then the Hallas women move across the street. Sybil, the grandmother who is blind but sees everything; Rhea, the vibrant and full of life mother; and Kara, the daughter who lives exclusively in the moment. When Olivia and Kara become friends, Olivia begins to emerge from the world of death she lives in and re-enter the world of the living. As Kara introduces Olivia to her obsession of writing to inmates on death row, they become the Resurrection Girls: pen pals to murderers and serial killers. Magical realism and heartbreak collide in this tale of grief and rebirth. Olivia goes through the stages of grief as she works toward re-entering the world that is moving on without her. Kara helps Olivia work through her grief as well as re-introduce her to her childhood friend and current crush, Prescott. Different types of love are shown throughout the story as Olivia begins to experience feelings beyond friendship for Kara while still harboring her crush on Prescott. The Hallas family is mysterious and magical and readers are left to interpret exactly what their family secrets may be. While told through Olivia's perspective, all the characters are well written and fully fleshed out. VERDICT A thoughtful novel about overcoming grief perfect for readers who enjoy emotional stories."—School Library Journal
AW Teen, 9780807569429, 272pp.
Publication Date: October 1, 2019
About the Author
Ava Morgyn is a native Texan and a lover of crystals, tarot, and powerful women with bad reputations. She studied English writing and rhetoric at St. Edward's University in Austin and currently resides with her family in Houston, where she lives surrounded by books and rocks and writes a blog on child loss, forloveofevelyn.com.
or
Not Currently Available for Direct Purchase