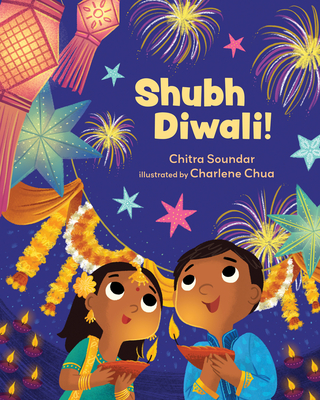 Shubh Diwali!
Hardcover

* Individual store prices may vary.
Description
Diwali has arrived! Rangoli art decorates the floor and strings of flowers hang around the doors. Now it's time to ring the bells, light the lamps, and welcome the new year with family and friends. A sweet introduction to the Hindu festival of lights.
Praise For Shubh Diwali!…
"Jaunty rhymes and warm, generous family activities mark the beginning of Diwali, the Hindu festival of lights, in this picture book that's designed to fill young eyes with wonder." — Foreword Reviews
"Soundar's rhyming picture book gives readers an overview of the Hindu celebration of Diwali as it is celebrated in large parts of North India and by the North Indian diaspora.Diwali is celebrated on the night of the new moon, and so after 'Grandpa watches the waning moon' and notes that 'the festival is coming soon,' an Indian boy and girl help their family clean and decorate the house. Then they all don new clothes, sing hymns and light lamps together, and exchange gifts and sweets with their neighbors, all in celebration of the holiday. Family members wear a combination of traditional Indian and Western attire; the suburban setting looks Western. It ends with a joyful greeting: 'Shubh Diwali, to one and all. / We wish you joy, big and small!' Soundar's use of 'Shubh' in the title—meaning 'auspicious' or 'holy'—instead of 'Happy' is welcome, as is Chua's inclusion of neighborhood diversity (white and black families as well as a person using a wheelchair). As an entry on the holidays shelf, it breaks little new ground, but North American shelves hardly overflow with Diwali titles. An author's note explaining the regional and religious differences in the celebration of Diwali across South Asia and the diaspora and a glossary of common terms provide readers with additional scaffolding.A solid introduction to a holiday celebrated by millions." — Kirkus Reviews
"Diwali, the Hindu celebration of both literal and metaphorical light, spans five days of rituals, camaraderie, and well-wishes. Young readers—those who do and don't celebrate Diwali—will smile along with the family here as all the members of their household, young, old, and canine, prepare the house for the celebration. Precise couplets on each page describe the preparations and traditions, while vibrant illustrations supply the context and details. Donning new clothes, the family welcomes visitors, the elders pass stories on to the younger generation, prayers are offered, and finally, the lamps are lit as the celebration is shared with the larger community. Soundar's text reflects a lovely, pluralistic society in which an Indian family's values and practices are affirmed. Pictures depict a modern, intergenerational family living in a diverse community. Diwali traditions include feasting together and reaching out to others with gifts and donations. A necessary addition to any corpus of books about celebrations."—Booklist
Albert Whitman & Company, 9780807573556, 32pp.
Publication Date: September 1, 2019
About the Author
Chitra Soundar is an active supporter of reading for pleasure and inclusivity in publishing. Born in India, she now lives in London. She has more than thirty books in print worldwide. Charlene Chua grew up in Singapore but now lives in Ontario, Canada. When she's not making art, she enjoys cooking, reading, and playing video games.