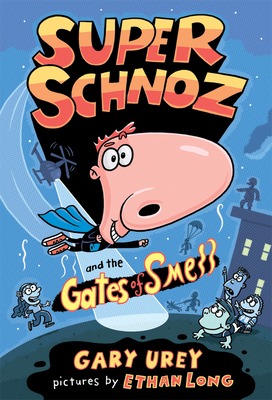 Super Schnoz and the Gates of Smell (Hardcover)
Albert Whitman & Company, 9780807575550, 160pp.
Publication Date: September 1, 2013
Other Editions of This Title:
Paperback (5/1/2015)
* Individual store prices may vary.
Description

Andy Whiffler is your average eleven-year-old boy. . . except that his nose is so big he can use it to fly and his sense of smell is a hundred thousand times stronger than any human. In the first book of this hilarious new series, Andy moves to a new school and is instantly picked on because of the size of his nose. But when his classmates discover how powerful his nose is, they decide he is more of a comic book hero than a nerd. One day Andy's school is shut down due to toxic gasses. Andy discovers that it's all a secret plot for an evil corporation called the ECU (Environmental Clean Up) to take over the world. Andy and his friends decide that this is a job for Super Schnoz, Andy's alter-ego. The rag-tag group of kids team up to take on the ECU and ensure school gets back in session (otherwise summer vacation will be ruined!).

About the Author

Gary Urey is a graduate of the American Academy of Dramatic Arts in New York and spent several years as an actor, script reader, and theatre reviewer. He lives in Portland, Maine and is a Youth Market Director for the American Heart Association. His website is www.garyureybooks.com.



Ethan Long is an award-winning and internationally recognized children's book author and illustrator with over 60 children's books and an Emmy-nominated series to his credit. He currently lives with his wife, Heather, and his three children in Orlando, Florida. His website is www.ethanlong.com.