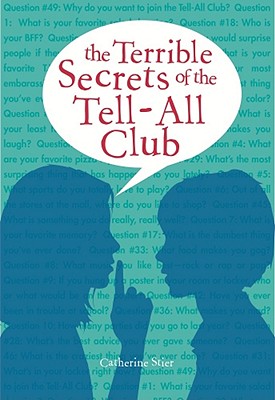 The Terrible Secrets of the Tell-All Club (Paperback)
Albert Whitman & Company, 9780807577998, 136pp.
Publication Date: July 1, 2011
Other Editions of This Title:
Prebound (7/1/2011)
Library Binding (9/1/2009)
* Individual store prices may vary.
Description
No one at school had ever thought up a club like this. All you had to do to be in it is answer some questions and share them with the rest of the club. Questions like: What is your favorite salad dressing? Who is your BFF? What was your most embarrassing moment? Kiley, T.J., Josh, and Anne each have a different motivation: one wants to fit in, one wants revenge, one has something to hide, and one is dying to find out another's secret. Told in four different viewpoints, this funny, touching novel explores friendship, social pressures, bullying, and other the other anxieties of kids everywhere--boys and girls alike.
About the Author
Catherine Stier has worked as a professional writer for more than 15 years, and has previously published hundreds of works including articles, stories and projects, with more than 25 articles appearing in Woman's Day. Her work has appeared in several magazines including Woman's World, Chicago Parent, and Highlights for Children; newspapers including The Chicago Sun-Times and The San Antonio Express-News. She has taught continuing education writing classes for both children and adults at William Rainey Harper College in Palatine, Illinois and has facilitated a Teen Writing Club at a local library. In 2008, Stier relocated to Southwest Texas where she now resides with her husband and two children.
or
Not Currently Available for Direct Purchase