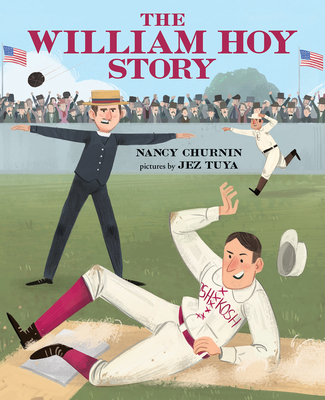 The William Hoy Story (Hardcover)
How a Deaf Baseball Player Changed the Game
Albert Whitman & Company, 9780807591925, 32pp.
Publication Date: March 1, 2016
* Individual store prices may vary.
Description
Winner - 2017 Storytelling World Resource Award Honor Book
Finalist - 2017 North Texas Book Festival Best Children's Books

All William Ellsworth Hoy wanted to do was play baseball. After losing out on a spot on the local deaf team, William practiced even harder—eventually earning a position on a professional team. But his struggle was far from over. In addition to the prejudice Hoy faced, he could not hear the umpires' calls. One day he asked the umpire to use hand signals: strike, ball, out. That day he not only got on base but also changed the way the game was played forever. William "Dummy" Hoy became one of the greatest and most beloved players of his time!

The William Hoy Story is also on several book lists:

2016 New York Public Library Best Books for Kids
2017 Texas 2x2 Reading List
2017 Texas Topaz Nonfiction Reading List
2017 Best Children's Books of the Year, Bank Street College
2017-2018 Charter Oak Children's Book Award List (Connecticut)
2017-2018 Kennebec Valley Book Award List
2018 Illinois Monarch Award Master List
2018-2019 Louisiana Young Readers' Choice List
About the Author
Nancy Churnin writes a weekly column about kids' entertainment and is the theater critic for the Dallas Morning News. She also writes a special needs parenting blog. She lives in Texas. Jez Tuya is a self-taught illustrator who grew up in the Philippines. He lives in New Zealand.
Praise For The William Hoy Story: How a Deaf Baseball Player Changed the Game…
Nominee: 2018-2019 Louisiana Young Readers' Choice List, Grades 3-5

"The Louisiana Young Readers' Choice program was founded in 1999 with the first award given in 2000. Participation in this program has climbed from 5,485 votes the first year to over 29,000 students participating in 2009. The purpose of the program is to foster a love of reading in the children of Louisiana by motivating them to participate in the recognition of outstanding books."
Nominee: 2017-2018 Kennebec Valley Book Award List