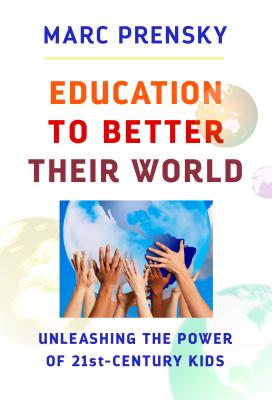 Education to Better Their World (Paperback)
Unleashing the Power of 21st-Century Kids
Teachers College Press, 9780807757901, 144pp.
Publication Date: September 26, 2016
* Individual store prices may vary.
Description
In his seventh and most visionary book, internationally renowned educator and futurist Marc Prensky presents a compelling alternative--based on applying students' passion to real, world-improving projects--to how and what we teach our children. What education should be about, says Prensky, is improving the world and having individuals improve in the process. He argues that a routinely taught combination of math, language arts, science, and social studies ("The MESS") increasingly leaves the bulk of our students woefully unprepared for the future. Drawing on emerging world trends, Prensky elaborates a comprehensive vision for K-12 education that includes new goals, new means, a new curriculum, a new kind of teaching, and a new use of technology. This is a book, ultimately, about developing young people's capacity to accomplish things that will make their world a better place, using means never before available. It offers an innovative and achievable vision for a Global Future Education that will better prepare students from all backgrounds. Visit the book's website at bettertheirworld.org.
Book Features:
Documents and presents world-improving projects under implementation.
Introduces new concepts of "The MESS," "Applied Passion," "Apprenticeship to the World," and "Learning as a means to education (and not its goal)."
Focuses on a broader curriculum with all the skills kids need.
Shows how technology can truly support students.
Details the changing role of the teacher and how teachers can evolve.
Speaks to parents, politicians, and citizens as well as educators.
About the Author
Marc Prensky is an internationally acclaimed speaker, author, consultant, and designer in the field of education. He is the founder and executive director of The Global Future Education Foundation and Institute. Contact Marc at marcprensky@gmail.com.