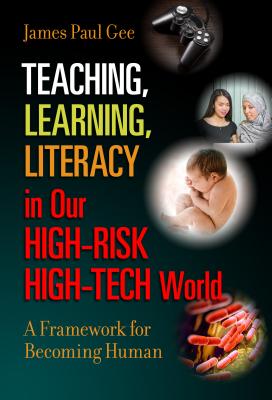 Teaching, Learning, Literacy in Our High-Risk High-Tech World (Paperback)
A Framework for Becoming Human
Teachers College Press, 9780807758601, 192pp.
Publication Date: April 14, 2017
* Individual store prices may vary.
Description
This is a profound look at learning, language, and literacy. It is also about brains and bodies. And it is about talk, texts, media, and society. These topics, though usually studied in different narrow academic silos, are all part of one highly interactive process--human development. Gee argues that children will need to be resilient, imaginative, hopeful, and deliberate learners to survive the deeply complex and unpredictable world in which they live. In a world beset by conflicting ideologies that give rise to hatred, violence, and war, Gee urges us to look to a broader set of ideas from seemingly unrelated disciplines for a viable vision of education. This book proposes a framework of principles that can be used to reconceptualize education, specifically literacy education, to better prepare students to be collaborators toward peace and sustainability.
Book Features:
Offers a new set of ideas about literacy, learning, and human development in a risk-laden, digitally driven modern world.
Uses recent breakthroughs in research on brains, bodies, society, identity, and teaching and learning in and out of school.
Stresses the importance of human growth and development to a more peaceful and equitable world.
About the Author
James Paul Gee, Mary Lou Fulton Presidential Professor of Literacy Studies and Regents' Professor at Arizona State University, is a fellow of the American Educational Research Association and a member of the National Academy of Education.