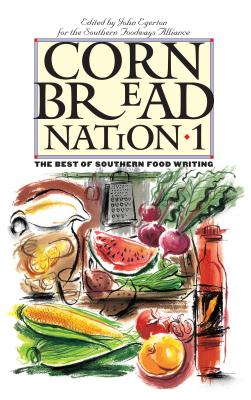 Cornbread Nation 1
The Best of Southern Food Writing (Cornbread Nation: Best of Southern Food Writing)
Paperback

* Individual store prices may vary.
Description
The first volume in what will be an annual collection, Cornbread Nation gathers the best of recent Southern food writing. In fifty entries--original features and selections previously published in magazines and journals--contributors celebrate the people, places, traditions, and tastes of the American South.

In these pages, Nikki Giovanni expresses her admiration for the legendary Edna Lewis, James Villas remembers his friend Craig Claiborne, Rick Bragg thinks back on Thanksgivings at home, Robert Morgan describes the rituals of canning time, and Fred Chappell offers a contrarian's view of iced tea. "Collectively," writes John Egerton, these pieces "buttress our conviction that nothing else the South has to offer to the nation and the world--with the possible exception of its music--is more eternally satisfying, heartwarming, reconciling, and memorable than its food." With the publication of Cornbread Nation, we acknowledge with gratitude the abiding centrality of food in the ongoing life of the South.

Contributors include:
Colman Andrews
Jim Auchmutey
Roy Blount Jr.
Gene Bourg
Rick Bragg
Fred Chappell
Lolis Eric Elie
Damon Lee Fowler
Nikki Giovanni
Jessica Harris
Karen Hess
Jack Hitt
Ted & Matthew Lee
Ronni Lundy
Robert Morgan
James Villas
Robb Walsh
University of North Carolina Press, 9780807854198, 272pp.
Publication Date: October 14, 2002