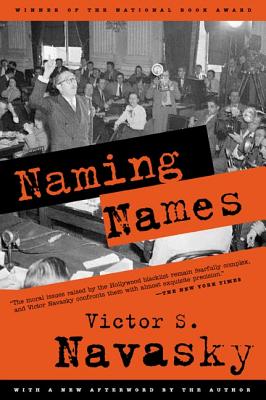 Naming Names
With a New Afterword by the Author
Paperback

* Individual store prices may vary.
Description
Winner of the National Book Award

"An astonishing work concerning personal honor and dishonor, shame and shamelessness. A book of stunning insights and suspense." —Studs Terkel

Half a century later, the investigation of Hollywood radicals by the House Committee on Un-American Activities still haunts the public conscience. Naming Names, reissued here with a new afterword by the author, is the definitive account of the hearings, a National Book Award winner widely hailed as a classic.

Victor S. Navasky adroitly dissects the motivations for the investigation and offers a poignant analysis of its consequences. Focusing on the movie-studio workers who avoided blacklists only by naming names at the hearings, he explores the terrifying dilemmas of those who informed and the tragedies of those who were informed on. Drawing on interviews with more than 150 people called to testify—among them Elia Kazan, Ring Lardner Jr., and Arthur Miller—Naming Names presents a compelling portrait of how the blacklists operated with such chilling efficiency.
Praise For Naming Names: With a New Afterword by the Author…
"The moral issues raised by the Hollywood blacklist remain fearfully complex, and Victor Navasky confronts them with almost exquisite precision." —The New York Times

"Navasky has done a splendid job bringing this enormous mass of facts to coherence and meaning, judging its ethical import so rigorously and fairly. Naming Names is must reading." —Los Angeles Times Book Review
Hill and Wang, 9780809001835, 528pp.
Publication Date: April 30, 2003
About the Author
Victor S. Navasky came to The Nation as editor in 1978, was made publisher and general partner in 1995, and is now publisher emeritus. The Delacorte Professor of Journalism at Columbia University and Director of the George Delacorte Center for Magazine Journalism, he chairs the Columbia Journalism Review. He was the founder, editor, and publisher of Monocle, an editor for the New York Times Magazine, and a columnist for the New York Times Book Review. The author of Naming Names, which won the National Book Award in 1982, and Kennedy Justice, he lives in New York City.