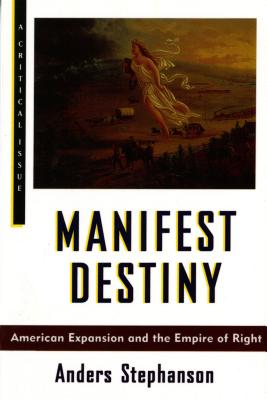 Manifest Destiny (Paperback)
American Expansion and the Empire of Right (Hill and Wang Critical Issues)
Hill and Wang, 9780809015849, 160pp.
Publication Date: January 31, 1996
* Individual store prices may vary.
Description
The Hill and Wang Critical Issues Series: concise, affordable works on pivotal topics in American history, society, and politics.
Stephanson explores the origins of Manifest Destiny--the American idea of providential and historical chosenness--and shows how and why it has been invoked over the past three hundred years. He traces the roots of Manifest Destiny from the British settlement of North America and the rise of Puritanism through Woodrow Wilson's efforts to "make the world safe for democracy" and Ronald Reagan's struggle against the "evil empire" of the Soviet Union. The result is a remarkable and necessary book about how faith in divinely ordained expansionism has marked the course of American history.
About the Author
Anders Stephanson, professor of history at Columbia University, is the author of Kennan and the Art of Foreign Policy.
Praise For Manifest Destiny: American Expansion and the Empire of Right (Hill and Wang Critical Issues)…
"A short yet powerful synthetic treatment of a fundamental though misunderstood theme in U.S. history. Stephanson's accent on the religious component of the ideology of Manifest Destiny is superb and relevant to our times." —Cornel West, author of Race Matters
"A fresh, imaginative, and stimulating look at a theme that has been important in American history from the Puritans through Reagan." —Walter LaFeber, Cornell University
"In this concise essay, Stephanson explores the religious antecedents to America's quest to control a continent and then an empire. He interprets the two competing definitions of destiny that sprang from the Puritans' millenarian view toward the wilderness they settled (and natives they expelled). Here was the God-given chance to redeem the Christian world, and that sense of a special world-historical role and opportunity has never deserted the American national self-regard. But would that role be realized in an exemplary fashion, with America a model for liberty, or through expansionist means to create what Jefferson called 'the empire of liberty'? The antagonism bubbles in two periods Stephanson examines closely, the 1840s and 1890s. In those times, the journalists, intellectuals, and presidents he quotes wrestled with America's purpose in fighting each decade's war, which added territory and peoples that somehow had to be reconciled with the predestined future. A sophisticated analysis of American exceptionalism, for ruminators on the country's purpose in the world." —Gilbert Taylor, Booklist