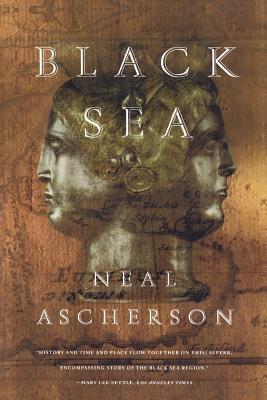 Black Sea
Paperback

* Individual store prices may vary.
Other Editions of This Title:
Hardcover (11/1/1995)
Description
Winner of the Los Angeles Times Book Prize for History
In this study of the fateful encounters between Europe and Asia on the shores of a legendary sea, Neal Ascherson explores the disputed meaning of community, nationhood, history, and culture in a region famous for its dramatic conflicts. What makes the Back Sea cultures distinctive, Ascherson agrues, is the way their comonent parts came together over the millennia to shape unique communities, languages, religions, and trade. As he shows with skill and persuasiveness, Black Sea patterns in the Caucasus, Russia, Ukraine, Romania, Turkey, and Greece have linked the peoples of Europe and Asia together for centuries.
Praise For Black Sea…
"A searching examination of the lands that ring the Black Sea and that were the scenes of some of the most ancient multicultural experiences of human history . . . rich both in historical data and in interpretation . . . with something to learn on every page. With ethnic conflicts much in the headlines, Mr. Ascherson's portrait of a place whose chief characteristic is the durability of its many ethnic identities comes at the right moment." —Richard Bernstein, The New York Times
"History and time and place flow together [in this] superb, encompassing story of the Black Sea region." —Mary Lee Settle, Los Angeles Times
"To say it at once: this is a superb book, beautifully written, evocative, learned, and deeply subtle." —Timothy Garton Ash, The Times Literary Supplement
"A beautifully written meditation on nationality, colonialism, nomadism and the settled life, which goes back to the beginning of the human world and traces the fortunes of the Aegean and Mediterranean traders who squeezed up through the Bosporus to do business with the steppe societies of the huge Black Sea hinterland." —Karl Miller, San Francisco Review of Books
"Brimming with . . . urgent argument: about culture, national identity, the misuse of history, archaeology, the co-existence of different peoples, the responsibility of intellectuals . . . not a boring or badly written paragraph in it." —Noel Malcolm, The Sunday Telegraph
Hill and Wang, 9780809015931, 320pp.
Publication Date: September 30, 1996
About the Author
Charles Neal Ascherson (born October 5, 1932) is a Scottish journalist and writer.
He was born in Edinburgh and educated at Eton and King's College, Cambridge, where he read history. He was described by the historian Eric Hobsbawm as "perhaps the most brilliant student I ever had. I didn't really teach him much, I just let him get on with it."
After graduating with a starred First, he declined offers to pursue an academic career. Instead, he chose a career in journalism, first at the Manchester Guardian and then at The Scotsman (1959-1960), The Observer (1960-1990) and the Independent on Sunday (1990-1998). He contributed scripts for the 1974 documentary series World at War and the 1998 series The Cold War. In recent years, he has also been a regular contributor to the London Review of Books.