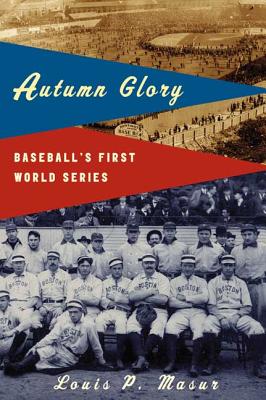 Autumn Glory (Paperback)
Baseball's First World Series
Hill and Wang, 9780809016365, 256pp.
Publication Date: October 1, 2004
* Individual store prices may vary.
Description
A suspenseful account of the glorious days a century ago when our national madness began
A post-season series of games to establish supremacy in the major leagues was not inevitable in the baseball world. But in 1903 the owner of the Pittsburgh Pirates (in the well-established National League) challenged the Boston Americans (in the upstart American League) to a play-off, which he was sure his team would win. They didn't--and that wasn't the only surprise during what became the first World Series. In Autumn Glory, Louis P. Masur tells the riveting story of two agonizing weeks in which the stars blew it, unknown players stole the show, hysterical fans got into the act, and umpires had to hold on for dear life.
Before and even during the 1903 season, it had seemed that baseball might succumb to the forces that had been splintering the sport for decades: owners' greed, players' rowdyism, fans' unrest. Yet baseball prevailed, and Masur tells the equally dramatic story of how it did so, in a country preoccupied with labor strife and big-business ruthlessness, and anxious about the welfare of those crowding into cities such as Pittsburgh and Boston (which in themselves offered competing versions of the American dream). His colorful history of how the first World Series consolidated baseball's hold on the American imagination makes us see what one sportswriter meant when he wrote at the time, Baseball is the melting pot at a boil, the most democratic sport in the world. All in all, Masur believes, it still is.
About the Author
Louis P. Masur is the William R. Kenan Jr. Professor in American Institutions and Values at Trinity College in Hartford, CT. He is the author of many books including 1831: Year of Eclipse; Autumn Glory: Baseball's First World Series; The Soiling of Old Glory: The Story of a Photograph that Shocked America; and Runaway Dream: Born to Run and Bruce Springsteen's American Vision. His most recent book, The Civil War: A Concise History, will be published in 2012.
Praise For Autumn Glory: Baseball's First World Series…
"This is a book that every baseball fan will enjoy. History-minded Americans will love it, too. It's a marvelous look at the Americans of 1903. What a great way to celebrate the one-hundredth anniversary of the World Series!" —Thomas Fleming, author of The New Dealers' War: F.D.R. and the War Within World War II
"Autumn Glory is a book to be savored in all seasons. Louis Masur vividly recreates a bygone year not only of immortals such as Cy Young, but also of forgotten diamond heroes with monikers such as Ginger Beaumont, Kitty Bransfield, and Noodles Hahn; a time when players rode to the stadium through cheering throngs in open barouches, and when, inning after inning, derby-hatted, cigar-smoking fans waved red parasols and belted out music-hall ballads until their throats were raw." —William E. Leuchtenburg, William Rand Kenan, Jr. Professor Emeritus, University of North Carolina
"Louis Masur's Autumn Glory is the best researched and most eloquent account of the first World Series yet written. He provides ample evidence why the first modern fall classic became a beloved American tradition." —Glenn Stout, co-author of Red Sox Century
"Autumn Glory brings one back to those halcyon days when players and owners alike eschewed money for honor, and when Boston actually used to win the World Series. An invaluable resource for all fans of the game." —Kevin Baker, author of Paradise Alley
"As the World Series turns a hundred years old this year, I can think of no better way to celebrate than reading Autumn Glory. Louis Masur drops us back a full century to relive the first World Series, and in his hands the games lose none of their excitement and flavor. The era comes vibrantly alive in this wonderful baseball book." —Jules Tygiel, author of Past Time: Baseball as History
"In a perfect world, there would be a book this good about every World Series." —Rob Neyer, author of Feeding the Green Monster