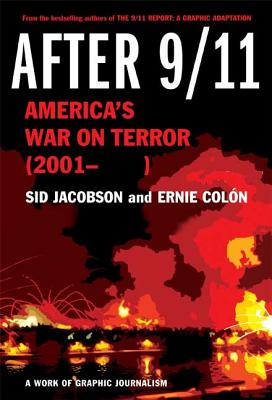 After 9/11 (Paperback)
America's War on Terror (2001- )
Hill and Wang, 9780809023707, 160pp.
Publication Date: August 19, 2008
Other Editions of This Title:
Hardcover (8/19/2008)
* Individual store prices may vary.
Description
Having made The 9/11 Commission Report understandable for everyone, the award-winning, bestselling graphic novel team of Sid Jacobson and Ernie Colón use all their considerable talents to explain the post-9/11 world. Working from news reports drawn from multiple international media, Jacobson and Colón depict the critical events, decision makers, and consequences of America's "war on terror," and, most important, the context in which the war began, unfolded, and unraveled. The most demanding story they have ever tackled, After 9/11 is also the most tailor-made for their medium, capturing simultaneous events, geographic complexity, numerous participants, and a vast array of economic, statistical, and quantitative information—compellingly told through the sequential panel art narrative form unique to graphic books. Proving yet again that graphic novels best meet the challenge of giving the most information with the least amount of ink, Jacobson and Colón answer with clarity and unforgettable imagery the question: How the hell did we end up where we are?
About the Author
Sid Jacobson was the managing editor and editor in chief for Harvey Comics, where he created Richie Rich, and executive editor at Marvel Comics. With Ernie Colón he created The 9/11 Report: A Graphic Adaptation and Anne Frank: The Anne Frank House Authorized Graphic Biography.

Ernie Colón is the illustrator of the New York Times bestseller The 9/11 Report: A Graphic Adaptation, After 9/11, Che, and Anne Frank (all published by Hill and Wang). He has worked at Marvel, where he oversaw the production of Spider-Man, and at DC Comics, where he did the same for Green Lantern, Wonder Woman, Blackhawk, and the Flash.
Praise For After 9/11: America's War on Terror (2001- )…
"When it comes to dramatic adaptations of factual events, nobody does it better than Sid Jacobson and Ernie Colón. After 9/11 is not only a spectacular, eminently readable graphic novel but a prime example of the perfect marriage between journalism and art." —Stan Lee
"In addition to providing a vividly comprehensible time line, After 9/11 makes intelligible--in a way that even an overtaxed Presidential candidate can grasp--the tribal and religious-factional complexities within Iraq and Afghanistan." —The New Yorker
"Ernie Colón's work has never been more effectively used. His illustrations generate a clarity and power, making complex and intensely dramatic situations comprehensible." —Joe Kubert
"A meditation on war, an evenly paced and sanguine presentation of America's reaction to terrorism, and the ensuing violence that trails behind the growing American and Muslim conflict in the Middle East . . . At its most brilliant, Jacobson and Colon are cartographers, assembling a map of the terror that has since erupted around the world. Starting at the beginning, they sum up each individual part, as if to pinpoint a place in the chaos and say, 'We are here.'" —Kai-Ming Cha, Playboy.com
"After 9/11 stands apart as the graphic novel equivalent of a particularly cogent Frontline report. . . . An excellent choice for educators looking for an accessible single-volume take on the subject." —Publishers Weekly
or
Not Currently Available for Direct Purchase