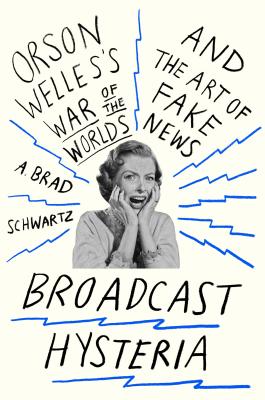 Broadcast Hysteria
Orson Welles's War of the Worlds and the Art of Fake News
Hardcover

* Individual store prices may vary.
Other Editions of This Title:
Digital Audiobook (5/4/2015)
Paperback (5/17/2016)
CD-Audio (5/5/2015)
Compact Disc (5/5/2015)
MP3 CD (5/5/2015)
Description
On the evening of October 30, 1938, radio listeners across the United States heard a startling report of a meteor strike in the New Jersey countryside. With sirens blaring in the background, announcers in the field described mysterious creatures, terrifying war machines, and thick clouds of poison gas moving toward New York City. As the invading force approached Manhattan, some listeners sat transfixed, while others ran to alert neighbors or to call the police. Some even fled their homes. But the hair-raising broadcast was not a real news bulletin-it was Orson Welles's adaptation of the H. G. Wells classic The War of the Worlds.
In Broadcast Hysteria, A. Brad Schwartz boldly retells the story of Welles's famed radio play and its impact. Did it really spawn a "wave of mass hysteria," as The New York Times reported? Schwartz is the first to examine the hundreds of letters sent to Orson Welles himself in the days after the broadcast, and his findings challenge the conventional wisdom. Few listeners believed an actual attack was under way. But even so, Schwartz shows that Welles's broadcast became a major scandal, prompting a different kind of mass panic as Americans debated the bewitching power of the radio and the country's vulnerability in a time of crisis. When the debate was over, American broadcasting had changed for good, but not for the better.
As Schwartz tells this story, we observe how an atmosphere of natural disaster and impending war permitted broadcasters to create shared live national experiences for the first time. We follow Orson Welles's rise to fame and watch his manic energy and artistic genius at work in the play's hurried yet innovative production. And we trace the present-day popularity of "fake news" back to its source in Welles's show and its many imitators. Schwartz's original research, gifted storytelling, and thoughtful analysis make Broadcast Hysteria a groundbreaking new look at a crucial but little-understood episode in American history.
Praise For Broadcast Hysteria: Orson Welles's War of the Worlds and the Art of Fake News…
"Intelligent and informative . . . Schwartz has access to materials . . . that no one has thoroughly studied before, and they allow him a carefully nuanced view." —Michael Wood, The New York Review of Books
"The night before Halloween, 1938, Welles and his staff perpetrated the most notorious hour of radio in the history of the medium . . . As A. Brad Schwartz shows . . . the audience was duped largely by the pacing . . . At the Welles archive at the University of Michigan, Schwartz studied more than a thousand letters related to The War of the Worlds . . . [He] concludes that rumors of all-out panic were fanned by print commentators who wished to ponder the gullibility of the masses and the unreliability of the radio medium—much as pundits fret over the Internet today." —Alex Ross, The New Yorker
"A winning mixture of history, biography, media criticism, and statistical analysis . . . [Broadcast Hysteria] is rich with context and often dryly humorous detail." —Jason Heller, NPR
"[A. Brad Schwartz's] well researched first book, which grew out of his honors thesis, challenges conventional wisdom. He also deftly places Welles's caper in the perspective of the time, when a real world war was looming, and the new medium of radio was enjoying a fleeting "Golden Age" as it simultaneously was experimenting with other dubious forms of journalism." —David Holahan, The Christian Science Monitor
"[Broadcast Hysteria] offers up many fresh details and, along the way, shows the many ways in which the whole [War of the Worlds] episode reverberates in our own time." —Richard J. Tofel, The Wall Street Journal
"An impeccable account of the most famous radio show in history, a fascinating biography of Orson Welles, and a vital lesson about the responsibility of the media." —Publishers Weekly (starred review)
"Groundbreaking . . . Fascinating as an analysis of both pop-culture and the media." —Booklist (starred review)
"Whether you're a cinephile or not, this is a book you'll be glad you read." —James Crossley, Bookriot
"An entertaining assessment of a watershed moment in American life and its lasting effect on popular culture." —Kirkus
"A gripping and informative look at the War of the World broadcast, as well as contemporary issues in the early 20th-century industry of radio." —Robin Chin Roemer, Library Journal
"Schwartz is a talented writer, and Broadcast Hysteria does an effective job of reminding readers that radio's intimate power in the 1930s is almost unimaginable in today's multiplatform media environment . . . the most robust account yet of audience reaction both to the broadcast and to the ensuing newspaper reports of panic . . . Schwartz's research is impressive and his findings are important." —Reason magazine
"This carefully researched new book reveals that the press, pundits, and academics got the story [of the broadcast] colossally wrong . . . . A. Brad Schwartz has evaluated more than a thousand letters written by Martian broadcast listeners to CBS, to the Federal Communications Commission, and to Welles himself. Schwartz is the first scholar to have read some of these letters . . . . [and] he comes to a startling conclusion: The hysteria was produced not by the audience, but by the press . . . . Schwartz is a graceful writer and a diligent historian." —The Weekly Standard
"If you think you know the story of Orson Welles and his Martian-invasion radio show, you're wrong-and A. Brad Schwartz is the perfect writer to set you straight, in this thoroughly engaging, superbly researched work." —Max Allan Collins, author of Road to Perdition and The War of the Worlds Murder
"Though the War of the Worlds broadcast has long been regarded as a singular event, it has lacked a historical study scaled to explore its many dimensions. A. Brad Schwartz has at last provided one. With a professional hand and an engaging style, Schwartz marshals unexplored archival evidence and synthesizes contentious debates to offer a fresh account of how the broadcast was conceived, experienced, aggrandized, and debunked, giving us fascinating portraits of everyone from Welles and his troupe to federal regulators, media researchers, and ordinary listeners. Capturing the sheer scope of the radio play and the thrill of its audience in an accessible way, this book will be an essential text for a long time to come." —Neil Verma, author of Theater of the Mind: Imagination, Aesthetics, and American Radio Drama
"Beautifully mirroring the ideals that guided Orson Welles's Mercury Theatre, A. Brad Schwartz has taken a well-known story from the past and told it with stunning originality. He excavates a crucial element missing from most previous accounts: the real people who listened in on October 30, 1938, to the news of a Martian invasion. Long derided as naive and gullible, or dismissed as insignificant in number, they emerge here as self-effacing, fearful, outraged, funny, and courageous-in other words, a lot like people today. Welles would be proud." —Mark Samels, executive producer, American Experience, PBS
"There was no mass panic on the night of October 30, 1938. Yet many still believe a radio drama featuring Martian invaders incited mobs of Americans to flee their homes. In Broadcast Hysteria, A. Brad Schwartz clarifies misconceptions and sets the record straight. In this well-written and meticulously researched work, Schwartz explains how a brilliant radio artist, an irresponsible press, and an overly ambitious social scientist combined to conjure one of the twentieth century's most enduring fables. The real story told here proves far more interesting than the myth." —Michael Socolow, associate professor of communication and journalism, University of Maine
"In this analytic tour de force, A. Brad Schwartz has assessed upward of two thousand letters-most available to researchers only recently-expressing every manner of opinion regarding Orson Welles's 'panic broadcast.' The result surpasses in comprehensiveness and insight all previous studies of this notorious media event." —Paul Heyer, author of The Medium and the Magician: Orson Welles, the Radio Years, 1934-1952
"A revealing and important reassessment of the most myth-encrusted radio program in American history." —W. Joseph Campbell, author of Getting It Wrong: Ten of the Greatest Misreported Stories in American Journalism
Hill and Wang, 9780809031610, 352pp.
Publication Date: May 5, 2015
About the Author
A. Brad Schwartz cowrote an episode of the award-winning PBS series American Experience on the War of the Worlds broadcast, based in part on research from his senior thesis at the University of Michigan in Ann Arbor. He lives in East Lansing, Michigan.
or
Not Currently Available for Direct Purchase