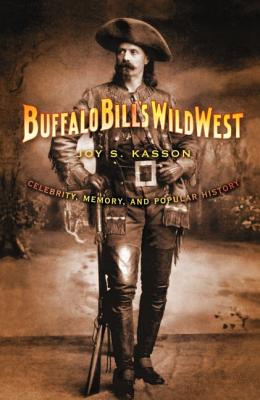 Buffalo Bill's Wild West
Celebrity, Memory, and Popular History
Paperback

* Individual store prices may vary.
Other Editions of This Title:
Hardcover (6/1/2000)
Description
A fascinating analysis of the first famous American to erase the boundary between real history and entertainment
Canada, and Europe. Crowds cheered as cowboys and Indians--and Annie Oakley!--galloped past on spirited horses, sharpshooters exploded glass balls tossed high in the air, and cavalry troops arrived just in time to save a stagecoach from Indian attack. Vivid posters on billboards everywhere made William Cody, the show's originator and star, a world-renowned figure.
Joy S. Kasson's important new book traces Cody's rise from scout to international celebrity, and shows how his image was shaped. Publicity stressed his show's "authenticity" yet audiences thrilled to its melodrama; fact and fiction converged in a performance that instantly became part of the American tradition.
But how, precisely, did that come about? How, for example, did Cody use his audience's memories of the Civil War and the Indian wars? He boasted that his show included participants in the recent conflicts it presented theatrically, yet he also claimed it evoked "memories" of America's bygone greatness. Kasson's shrewd, engaging study--richly illustrated--in exploring the disappearing boundary between entertainment and public events in American culture, shows us just how we came to imagine our memories.
Praise For Buffalo Bill's Wild West: Celebrity, Memory, and Popular History…
"A canny interpreter of popular culture ... Kasson has gathered fascinating material on the man who in producing a pageant of American triumphalism, helped create the commercial world of entertainment that today we take for granted ... Kasson skillfully shows us Cody as performer, icon, impresario. And what a show he put on!" —Tom Engelhardt, The Los Angeles Book Review
"A scholarly ... readable cultural analysis." —Bob Minzesheimer, USA Today
Hill and Wang, 9780809032440, 336pp.
Publication Date: October 17, 2001
About the Author
Joy S. Kasson, author of several books on American history, is a Professor of American studies and English at the University of North Carolina, Chapel Hill. She lives with her family in Chapel Hill.