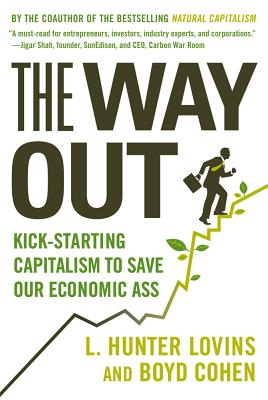 The Way Out (Paperback)
Kick-starting Capitalism to Save Our Economic Ass
Hill and Wang, 9780809034697, 400pp.
Publication Date: April 10, 2012
* Individual store prices may vary.
Description
Believe in climate change. Or don't. It doesn't matter.
But you'd better understand this: the best route to rebuilding our economy, our cities, and our job markets, as well as assuring national security, is doing precisely what you would do if you were scared to death about climate change. Whether you're the head of a household or the CEO of a multinational corporation, embracing efficiency, innovation, renewables, carbon markets, and new technologies is the smartest decision you can make. It's the most profitable, too. And, oh yes--you'll help save the planet.
In The Way Out, L. Hunter Lovins, coauthor of the bestselling Natural Capitalism, and the sustainability expert Boyd Cohen prove that the future of capitalism in a recession-riddled, carbon-constrained world will be built on innovations that cutting-edge leaders are bringing to the market today. These companies are creating jobs and driving innovation.
The Way Out delivers hundreds of in-depth case studies of international corporations, small businesses, NGOs, and municipalities to prove that energy efficiency and renewable resources are already driving prosperity. While highlighting business opportunities across a range of sectors--including energy, construction, transportation, and agriculture technologies--Lovins and Cohen also show why the ex-CIA director Jim Woolsey drives a solar-powered plugin hybrid vehicle. His bumper sticker says it all: "Osama bin Laden hates my car."
Corporate executives, entrepreneurs, environmentalists, and concerned citizens alike will find profitable ideas within these pages. In ten information-packed chapters, The Way Out gives tangible examples of early adopters across the globe who see that the low-carbon economy leads to increased profits and economic growth. It offers a clear and concise road map to the new energy economy and a cooler planet.
Previously published under the title Climate Capitalism
About the Author
Named a Time magazine 2000 Hero of the Planet and called by Newsweek "the green business icon," L. Hunter Lovins is president and founder of Natural Capitalism Solutions and Chief Insurgent of the Madrone Project. Her clients include large companies like Walmart; small companies like Clif Bar; the Pentagon; the United Nations; cities around the world; and the energy minister of Afghanistan, to name just a few.

Boyd Cohen is CEO of CO2IMPACT and a former professor of sustainable entrepreneurship in Spain, Costa Rica, and Canada.
Praise For The Way Out: Kick-starting Capitalism to Save Our Economic Ass…
"Climate Capitalism is a must-read for entrepreneurs, investors, industry experts, and corporations interested in capitalizing on the greatest wealth-creation opportunity of our lifetime: solving climate change." —Jigar Shah, founder, SunEdison, and CEO, Carbon War Room
"If you wonder whether there is any hope of humankind's dealing successfully with climate change, read this book. It is a virtual compendium of what is going on already from which to draw hope and, more important, inspiration." —Ray Anderson, chairman and founder, Interface, Inc.
"Coping with climate change requires challenging conventional wisdom and showing where our interests--global, national, corporate, and personal--really lie. Climate Capitalism eloquently defines those interests and the role that market forces could and should play." —Sir Crispin Tickell, chair emeritus, Climate Institute
"Should be on every CEO's reading list and required in every corporate boardroom." —Bill Becker, executive director, Presidential Climate Action Project
"Well supported with examples of real business practice." —Ed Crooks, Financial Times
"In Climate Capitalism, L. Hunter Lovins and Boyd Cohen present in crisp, clear terms how smart economics hold the key to addressing the multiple crises--from financial to food, climate to resource scarcity--facing the world." —Achim Steiner, executive director, United Nations Environment Programme
"The ultimate guide for business and government leaders who see the opportunities in our rapidly changing world but don't yet know how to win." —Will Semmes, former director, California Conservation Corps
"For those seeking to implement genuine climate solutions, and make money doing so, Climate Capitalism cannot be recommended highly enough." —Tom Carnac, director of innovation, Carbon Disclosure Project
"A blueprint to recalibrate the economy to the realities of climate destabilization. A must-read." —David Orr, Paul Sears Distinguished Professor of Environmental Studies and Politics, Oberlin College
"Waste is expensive in any form. Climate Capitalism clearly articulates how individuals, companies, municipalities and countries have benefited by reducing their carbon impacts. It's time to revamp what is considered business fundamentals! Organizations that embrace the principles in this book will be not only better positioned to weather the uncertain future, but will be trailblazing the paths." —Catherine Greener, principal and co-founder, Clear Green Advisors
"Periodically an event, a speech, or a book comes along that changes everything. Climate Capitalism is one of those books. Just as Natural Capitalism inspired thousands of businesses to re-think their bottom line, Climate Capitalism profiles the opportunity, not the crisis, of climate change. It puts business in the leadership position to invest in a global future that improves profitability while cutting climate change. Lovins and Cohen lay to rest the economic argument that energy conservation and renewable energy cost jobs. Lovins is a master of her subject matter having been awarded the "Nobel Award" of Sustainability Leadership by the European Business community in 2008." —David Johnston, author of Green from the Ground Up
"One of the fastest growing areas in business schools today is entrepreneurship, and more specifically social entrepreneurship, as more and more students seek a path to both making a living and a positive difference in the world. Climate Capitalism provides both direction and inspiration for these students who do not accept the artificial tradeoff between doing well and doing good. Bravo to Lovins and Cohen and to all those students who will turn this critically important message to positive action for the planet." —R. Bruce Hutton, dean emeritus, Daniels College of Business, University of Denver
"With a massive shift in the global economy toward sustainable business, new markets are emerging and cities are poised to capitalize. Climate Capitalism demonstrates how cities can succeed in the global green economy by taking advantage of the growing demand for clean, green innovation. To build a future that values people and the planet, we need to rethink how we do business--and Climate Capitalism shows how to do it." —Gregor Robertson, Mayor of Vancouver, BC
"Diversey uses the principles outlined in this book to enhance our profitability. For every dollar we invest in climate protection we get two dollars in return." —S. Curtis Johnson, chairman, Diversey, Inc.
"Alliteration isn't the only thing this book's got going for it. Climate Capitalism isn't the fastest read (its more than 300 pages are packed with information), but it very comprehensively shows how environmental challenges, including climate change, can be linked to business opportunities for all. Through case studies and the authors' own expertise, Climate Capitalism makes a powerful case for the two major 'C's of today's society." —Shirley Mak, Sierra Club
"A highly persuasive demonstration of how profitable economic choices can take us a long way toward dealing with climate disruption, the misguided aspects of our agriculture, oil's strategically catastrophic monopoly over transportation, the poverty of the bottom billion, and much else. Creative and deftly crafted." —R. James Woolsey, Jr., former director of the CIA
"Climate Capitalism proves time and time again that conservation and energy efficiency are essential for capitalism to reach its highest potential." —Peter Byck, director, Carbon Nation
"Hunter Lovins' voice has always cut through the clamor and confusion around sustainability, like a chain saw through warm butter. And with Climate Capitalism you'll think Will Rogers has jumped back through time to lead us through another tough patch. Only this time he's not only got a lot of down home common sense, he's got a Library of Congress worth of data to back it up." —Alex Bogusky, founder of the Fearless Cottage
"Climate Capitalism provides convincing evidence that the world's climate and financial crises are deeply entangled, and that tackling the one is an essential part of tackling the other. Lovins and Cohen have assembled so much positive, hopeful material that it is hard to believe folks who still say 'it can't be done.'" —Guy Dauncey, author of The Climate Challenge: 101 Solutions to Global Warming