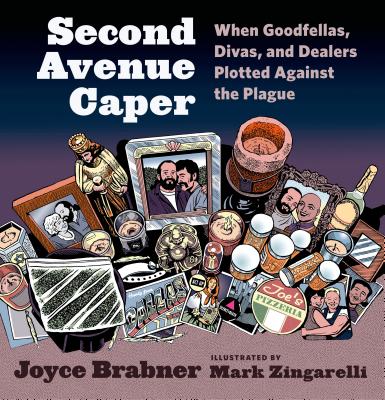 Second Avenue Caper
When Goodfellas, Divas, and Dealers Plotted Against the Plague
Hardcover

* Individual store prices may vary.
Description
Winner of the 2015 Lambda Literary Award for Best LGBT Graphic Novel
A Village Voice Best Graphic Novel of 2014

The renowned graphic-book author Joyce Brabner's Second Avenue Caper is the true story of a tight-knit group of artists and activists living in New York City in the early 1980s who found themselves on the front lines in the fight against AIDS.

Struggling to understand the disease and how they could help, they made a deal with a bona fide goodfella, donned masterful disguises, piled into an "A-Team" van, and set off for the border, determined to save their bedridden friends by smuggling an experimental drug into the United States from Mexico.

With their community in crisis and the world turned against them, this impassioned gang of misfits never gave up hope as they searched for ways to raise awareness and beat the plague. Fast-paced, poignant, and beautifully illustrated by the award-winning illustrator Mark Zingarelli, Second Avenue Caper is a heartfelt tribute to the generation that faced down AIDS.
Praise For Second Avenue Caper: When Goodfellas, Divas, and Dealers Plotted Against the Plague…
"Writer Joyce Brabner and artist Mark Zingarelli's true tale of early-1980s gay activists fighting the AIDS epidemic by running illegal antiviral drugs (and pot) from south of the border is as funny, and harrowing, as its mix of drag queens, mobsters, Cheez Whiz, and eulogies promises." —R. C. Baker, Village Voice

"[Second Avenue Caper] bears the gravitas of a troubling moment in history, drawing compelling lines toward its present and future ramifications. It both burns with righteous anger and tenderly embraces the many whose lives have been touched by the AIDS plague." —Dave Wheeler, Shelf Awareness (starred review)

"Second Avenue Caper captures the pathos, tragedy, sweetness and mania of the early days of the AIDS pandemic. Creators Joyce Brabner and Mark Zingarelli bring it to life and make it sing." —Cory Doctorow, Boing Boing

"With visuals that blend cartoon-style appeal with documentary realism, Brabner's (American Splendor) chronicle of grassroots activism in N.Y.C.'s gay community during the early days of the AIDS crisis grabs readers from its opening splash page . . . Zingarelli crisply illustrates a story long hidden." —Publishers Weekly

"A graphic memoir detailing a pot-dealing scheme that helped finance treatment for those dying from AIDS in the early days before the epidemic even had that name . . . [written with a] humorous spirit of irreverence, though the subject is deadly serious . . . a story of early warning, recognition and action." —Kirkus

"Neatly converting the old NRA bumper sticker to proclaim that if drugs are outlawed, only outlaws will receive proper medical attention, with Second Avenue Caper Joyce Brabner and Mark Zingarelli expertly document a recent moment in history that already seems medieval in its ignorance. In an irresistible narrative crammed with drag queens, drug smugglers, and desperadoes, Brabner brings her considerable skills and experience as an activist and chronicler to bear upon an emblematic tale of our times, as classically heroic and moving as it is absurd, all brought to life by the beautifully honest and lucid artwork of the tremendous Zingarelli. This is a marvelous piece of work and a significant contribution to future histories of our stupefyingly complex times. I can't recommend it highly enough." —Alan Moore, award-winning graphic novelist and author of Watchmen, V for Vendetta, and From Hell

"At that liminal moment when it became clear that a pattern of infection threatened to become a deadly epidemic, heroes emerged from the ranks of the ordinary. They were motivated by the desire to help friends survive this pitiless disease, or, in many cases, to make sure they died loved and cared for. Second Avenue Caper presents portraits of a few of these heroes, bringing them to life on the page as they describe, in their own words, ingenious plots to secure medication and provide care for those who had fallen ill with AIDS. These stories are told with humor and poignance, in such a way that the reader feels included in the conversation, as if listening to war stories narrated by old friends. This brilliant collaborative work between Joyce Brabner and Mark Zingarelli is an important contribution to the social history of the AIDS epidemic." —Phoebe Gloeckner, author of The Diary of a Teenage Girl

"I love Second Avenue Caper! Joyce Brabner has crafted a tight tale that is a powerful, intimate, and inspirational reminder of the strength of the human spirit in the face of unspeakable tragedy. Mark Zingarelli's artwork is nothing short of spectacular. There's a brilliant cinematic quality to his work, and the drawings delight with exceptional detail and sympathetic portrayals. Zingarelli is a master craftsperson, and this book shows him at the top of his form. Second Avenue Caper really is the perfect blend of words and pictures." —Robert Newman, creative director of Newmanology and former design director of Entertainment Weekly, Details, New York, and Vibe

"The earliest days of the AIDS epidemic in America can seem a world away now, but Joyce Brabner's illustrated oral history, as brought to life by Mark Zingarelli's crisp illustrations, reminds those of us who were there--and will enlighten those who weren't--about that era's paradoxical mix of terror, death, and heroism in behalf of a community." —Howard Cruse, award-winning artist and author of Stuck Rubber Baby and The Complete Wendel

"A potent example of the power of the individual in the face of almost unimaginable crisis. Raymond is Brabner's main interview subject, and Mark Zingarelli's simple black and white illustrations of him are undeniably striking. Ray is possessed of a most memorable kind of warm melancholy; drawings of him are a masterful combination of strength and sadness, of resilience and determination tempered by a sense of inevitable loss . . . Second Avenue Caper should be required reading. Its ability to testify to a period of history mainstream America is not often privy to is a step towards trying to make America better for everyone." —Carolyn Marcille, Artvoice
Hill and Wang, 9780809035533, 160pp.
Publication Date: November 18, 2014
About the Author
Joyce Brabner is an award-winning author who frequently collaborated with her late husband, Harvey Pekar, on his American Splendor series. Her work includes the Real War Stories series, Activists!, Brought to Light (with Alan Moore), and Our Cancer Year (with Pekar). She lives in Cleveland Heights, Ohio.

Mark Zingarelli is a cartoonist and illustrator whose work has appeared in The New Yorker, Esquire, Sports Illustrated, Fortune, Time, and more. He lives in Pennsylvania.
or
Not Currently Available for Direct Purchase