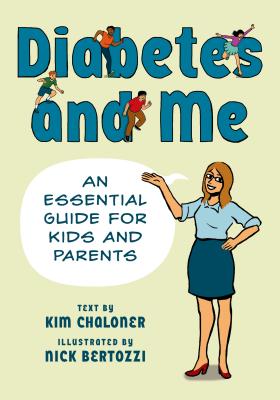 Diabetes and Me: An Essential Guide for Kids and Parents (Paperback)
An Essential Guide for Kids and Parents
Hill & Wang, 9780809038718, 157pp.
Publication Date: November 12, 2013
Description
An upbeat, empathetic, and essential guide for young people with diabetes
In "Diabetes and Me: An Essential Guide for Kids and Parents," Kim Chaloner, who has been teaching award-winning science classes for fifteen years, gives kids the tools they need to take charge of their health and understand what it means to be diagnosed with diabetes. In this graphic guide, she walks four young people through the basics of diabetes, both Type 1 and Type 2, revealing . . .
The early signs of diabetes and how doctors can help
What it means to have Type 1 or Type 2 diabetes
What the pancreas is and how it works
How to manage the ups and downs of blood sugar levels
Strategies for diet and exercise
How to explain diabetes to friends and family members
And much more
Illustrated by the award-winning artist Nick Bertozzi, "Diabetes and Me "is an informative, empowering handbook for parents, teachers, and kids looking to learn more about how to handle one of today's most common conditions.
About the Author
Kim Chaloner is a middle school science teacher and the dean of community life at an independent private school in Manhattan, where she organizes programs in sustainability, biology, multicultural education, and community service. She was diagnosed with Type 1 diabetes at age sixteen.Nick Bertozzi is an award-winning illustrator and the author of The Salon and Lewis & Clark. He is the recipient of multiple Harvey Awards and Ignatz Awards, as well as a Xeric Grant. He teaches cartooning at New York City's School of Visual Arts. He has also taught at the Rhode Island School of Design and the Center for Cartoon Studies in White River Junction, Vermont.Chaloner and Bertozzi live in Jackson Heights, New York.
Praise For Diabetes and Me: An Essential Guide for Kids and Parents…
"What a surprisingly fun and friendly way for young people to learn about diabetes! This graphic guide brings a hopeful, practical, easy-to-read, real-life perspective to living well with diabetes. Kudos to Kim Chaloner and Nick Bertozzi!"
—William H. Polonsky, PhD, CDE, CEO of the Behavioral Diabetes Institute

"What a neat concept: diabetes education meets comic books! Diabetes and Me is informative and inspiring without being boring or condescending. I hope the authors will create one for adults, too!"
—Gary Scheiner, MS, CDE, author of Think Like a Pancreas and AADE Diabetes Educator of the Year, 2014

"Diabetes and Me is absolutely 'Diva'-licious! It's a great way for kids of all ages to learn about diabetes. Kim Chaloner's friendly and upbeat narrative and Nick Bertozzi's beautiful illustrations bring to life what it's really like to be living with this disease."
—Max "Mr. Divabetic" Szadek, founder of Divabetic
Advertisement