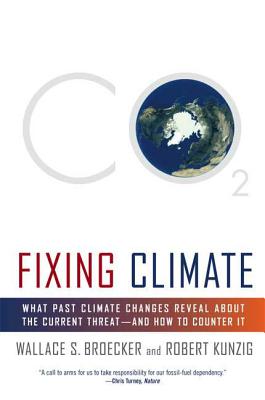 Fixing Climate (Paperback)
What Past Climate Changes Reveal About the Current Threat--and How to Counter It
Hill and Wang, 9780809045020, 272pp.
Publication Date: March 31, 2009
* Individual store prices may vary.
Description
The product of a unique collaboration between a pioneering earth scientist and an award-winning science writer, Fixing Climate takes an unconventional approach to the problem of global warming—and offers a possible solution. Hailed by his colleagues as "one of the our greatest living geoscientists," Wallace S. Broecker, a longtime researcher at Columbia University's Lamont-Doherty Earth Observatory, warned about the possible consequences of global warming decades before it became a compelling public issue. Hooked on climate studies since his student days, he has learned, largely through his own findings, that climate does change—naturally, dramatically, and rarely benignly. He also knows from experience that when mankind pushes nature as we are currently doing by dumping some sixty to seventy million metric tons of carbon dioxide into the atmosphere every day, climate will change even more dramatically and less benignly. As Broecker points out, if a well-meaning fairy godmother were to turn us all into energy-saving paragons at the stroke of midnight tonight, the resulting reduction in atmospheric carbon dioxide might lessen but could not turn aside the great warming tide now headed our way. There is, nonetheless, a glimmer of hope in the development of new technologies that are directed not only at the reduction of carbon dioxide output but also at its harmless disposal.
About the Author
Wallace S. Broecker (1931-2019) was a geologist whose landmark 1975 scientific paper "Climate Change: Are We on the Brink of a Pronounced Global Warming?" popularized the phrase, and whose predictions about the dangers of increasing carbon monoxide levels in the atmosphere brought national attention to environmental crises.
He earned a bachelor's degree in physics and a Ph.D. in geology from Columbia University, joining its faculty to become the Newberry Professor of Earth and Environmental Sciences. Wallace received many science awards for his work, including the National Medal of Science from President Bill Clinton in 1996 and Sweden's Crafoord Prize in Geosciences in 2006.
Known as the "Grandfather of Climate Science" or the "Father of Global Warming,"—who also coined the term "the global conveyor" for the ocean currents that circulate warm water around the planet—Wallace wrote several books including Fixing Climate: What Past Climate Changes Reveal About the Current Threat—And How to Counter It (with Robert Kunzig).
Robert Kunzig
is a freelance science writer.
Praise For Fixing Climate: What Past Climate Changes Reveal About the Current Threat--and How to Counter It…
"Fixing Climate gives a colorful history of a few of the theories and some of the people that have identified the course of catastrophic climate change. The book deftly explores how we arrived at the point where climate change is no longer preventable and will continue even if we all adopt sustainable alternatives the day after tomorrow…. Broecker and Kunzig make the case that this scheme is not just attainable but essential to our survival." —Discover magazine
"If anyone should be taken seriously on the topic of climate change, it is Wallace Broecker." —OnEarth
"Written by journalist Robert Kunzig and renowned Columbia University climate scientist Wallace Broecker, "Fixing Climate" is as much Broecker's scientific memoir as it is a call to action. The authors wend their way through a good deal of the history of climate-science research--a fair amount of it over the past five decades conducted by Broecker or his close associates--in a measured, graceful manner." —The Christian Science Monitor
"A call to arms for us to take responsibility for our fossil-fuel dependency." —Nature magazine
"An excellent history of climate science in the 20th century. . . Broecker himself is an eminent climate scientist [and] he is worth listening to." —The Guardian (UK)
"A wonderful and easy to read book..." —The New York Observer
"A strong but never strident document of the coming crisis, expressing some optimism on our chances of surviving it." —Kirkus Reviews
"Fascinating. . . Framed around the life and career of author Broecker, one of the earliest voices on global warming, this history of the climate crisis reads like a series of mini scientific biographies as the authors travel around the world and across centuries illuminating the lives of those who sought answers to climate mysteries. . . Anyone interested in environmental science, even at the most basic levels, will be intrigued by the wealth of climate history covered and the manner in which Broecker and Kunzig make personal stories from 200 years ago as relevant and fascinating as those from last year." —Booklist
"A remarkably readable and compelling account of the important advances in our understanding of the complexity of global climate that have taken place over the past 40 years. The book is a must-read for anyone wishing to understand the unique nature of the climate change underway today." —Michael McElroy, Gilbert Butler Professor of Environmental Studies, Harvard University
"The world needs pioneering scientists, visionaries, leaders in the global debate on climate change. Broecker and Kunzig offer us a unique contribution by mapping out how to fix the climate. Their book is a must for all who care about the future." —Ólafur Ragnar Grímsson, President of Iceland
"'If you're living with an angry beast, you shouldn't poke it,' warns Wally Broecker, the world's leading expert on abrupt climate change. Yet we're doing just that, say Broecker and co-author Robert Kunzig in their riveting new book Fixing Climate. Our vast use of fossil fuels--combined with massive deforestation--is dangerously poking Earth's climate and threatening massive instability in climate, sea levels, and even the survival of species. The heroic labors of scientists such as Broecker illuminate the risks the world now faces as well as the choices our global society must make in order to live in harmony with Earth and ensure the wellbeing of future generations." —Jeffrey D. Sachs, Director of the Earth Institute at Columbia University and Special Advisor to UN Secretary-General Ban Ki-Moon
"A wonderful book about climate change and how to fix global warming, as seen through the eyes of one of our greatest living geoscientists. This extremely well-written account presents a host of fascinating characters, discovering secrets about how the climate system worked in the past and what this means for the future of civilization. It's the best book on the subject I've read." —George H. Denton, professor of geological sciences, University of Maine
"The best insight into our future must come from the Earth's history--and Broecker is the world's expert on climate history." —James E. Hansen, director of the NASA Goddard Institute for Space Studies
"This very readable volume is the happy outcome of a collaboration between Wally Broecker, one of the founding fathers of climate science, and an exceptional science writer. Kunzig plays Boswell to Broecker's Johnson, and through a felicitous marriage of anecdote and lucid explanation they show how the science moved forward by a combination of hard work, insight, personal interactions and a little serendipity. A very enjoyable way to grasp the fundamentals of modern climate science!" —Baron Ron Oxburgh, former chairman of Royal Dutch Shell PLC, Head of the select committee on science and technology of the United Kingdom House of Lords
"Wally Broecker is one of the most interesting figures in the study of the biggest problem the world has ever faced. This book explains why that problem may be getting completely out of hand, and offers at least an outside possibility for helping to tame it." —Bill McKibben, author The End of Nature and The Bill McKibben Reader
"Towering scientist Wally Broecker and master-wordsmith Rob Kunzig tell the story we must read, of the great environmental challenges facing us and a path to solving them. Along the way, we catch a glimpse of the humanity behind the great mind, of what it is to be Wally Broecker trying to rescue the world from itself." —Richard Alley, professor of geosciences, Pennsylvania State University
"A brilliant and iconoclastic scientist, Wally Broecker is largely responsible for shaping the modern discipline of chemical oceanography. His pioneering work has improved our understanding of the ocean's roles in the carbon cycle and climate system and demonstrated that climate often shifts in unpredictable jumps and spurts. In Fixing Climate, Broecker teams with science journalist Robert Kunzig to offer a well-crafted description of the history of such research, our current climate predicament, and possible paths forward. . . . [Fixing Climate] demonstrates that Broecker has again identified an important and difficult problem for which he offers creative solutions that will open new lines of productive research." —Science