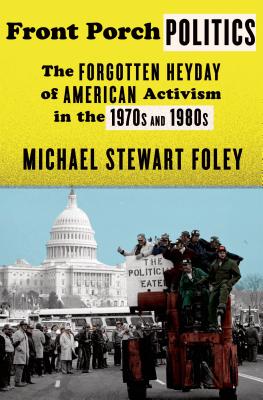 Front Porch Politics (Hardcover)
The Forgotten Heyday of American Activism in the 1970s and 1980s
Hill & Wang, 9780809054824, 401pp.
Publication Date: September 17, 2013
* Individual store prices may vary.
Description
"Reading this book revives the spirit of civic action today for those who are unjustifiably forlorn about overcoming injustice." Ralph Nader

An on-the-ground history of ordinary Americans who took to the streets when political issues became personal
The 1960s are widely seen as the high tide of political activism in the United States. According to this view, Americans retreated to the private realm after the tumult of the civil rights and antiwar movements, and on the rare occasions when they did take action, it was mainly to express their wish to be left alone by government as recommended by Ronald Reagan and the ascendant New Right.
In fact, as Michael Stewart Foley shows in "Front Porch Politics," this understanding of post-1960s politics needs drastic revision. On the community level, the 1970s and 1980s witnessed an unprecedented upsurge of innovative and impassioned grass roots political activity. In Southern California and on the Lower East Side of Manhattan, tenants challenged landlords with sit-ins and referenda; in the upper Midwest, farmers vandalized power lines and mobilized tractors to protect their land; and in the deindustrializing cities of the Rust Belt, laid-off workers boldly claimed the right to own their idled factories. Meanwhile, activists fought to defend the traditional family or to expand the rights of women, while entire towns organized to protest the toxic sludge in their basements. Recalling Love Canal, the tax revolt in California, ACT UP, and other crusades famous or forgotten, Foley shows how Americans were propelled by personal experiences and emotions into the public sphere. Disregarding conventional ideas of left and right, they turned to political action when they perceived, from their actual or figurative front porches, an immediate threat to their families, homes, or dreams.
" Front Porch Politics "is a vivid and authoritative people's history of a time when Americans followed their outrage into the streets. Addressing today's readers, it is also a field guide for effective activism in an era when mass movements may seem impractical or even passe. The distinctively visceral, local, and highly personal politics that Americans practiced in the 1970s and 1980s provide a model of citizenship participation worth emulating if we are to renew our democracy.
About the Author
Michael Stewart Foley is the author of Confronting the War Machine: Draft Resistance During the Vietnam War, winner of the Scott Bills Memorial Prize from the Peace History Society. He has edited or coedited three other books and is a founding editor of The Sixties: A Journal of History, Politics and Culture. A native New Englander, he has taught American history at the City University of New York and, in England, at the University of Sheffield. He is now a professor of American political culture at the University of Groningen in the Netherlands.
Praise For Front Porch Politics: The Forgotten Heyday of American Activism in the 1970s and 1980s…
"Carefully researched and vividly written."
—Booklist

"A useful, vibrant account of a neglected chapter in our activist history."
—Bill McKibben, founder of 350.org and author of The End of Nature

"In Front Porch Politics, Michael Stewart Foley illuminates an era of creative populist organizing that needs to be remembered and emulated. This is a wise and gracefully composed book—and essential reading for anyone who cares about the past and future of democracy in America."
—Michael Kazin, author of American Dreamers: How the Left Changed a Nation and editor of Dissent

"Michael Stewart Foley is one of our best historians of Americans' long experiment with democracy. In Front Porch Politics, he demolishes the myth of post-1960s political exhaustion and gives us instead a fascinating account of grassroots politics in the 1970s and 1980s, an era when millions of Americans fought for a moral capitalism and social equity."
—David Farber, author of The Rise and Fall of Modern American Conservatism

"Michael Stewart Foley has flipped the dismal decade! In place of America's years of despair, this lively, well-crafted study reveals a tremendous mix of citizen-based political initiatives. Whether it was environmental issues, family values, or factory closings, the government wasn't doing it for these local activists, so they stood up and did it themselves. This rich and engaging tale of the grass roots delivers the reader far beyond the clichés of the decade. Maybe this wasn't the 'me decade' after all. Maybe it was the decade of self-reliance—collectively pursued."
—Jefferson Cowie, award-winning author of Stayin' Alive: The 1970s and the Last Days of the Working Class

"Michael Stewart Foley brilliantly captures the hidden grassroots history of the 1970s and 1980s. Richly detailed and sweeping in scope, Front Porch Politics sees past the easy cliché of a decadent 'me generation' to document the countless ways ordinary people in those decades lived up to the civic ideal of engagement with the public good. Foley's new synthesis of a much misunderstood era demands to be read."
—Robert O. Self, author of All in the Family: The Realignment of American Democracy Since the 1960s

"In this beautifully written, highly readable account, Michael Stewart Foley takes us on a journey into the small towns, cities, suburbs, factories, and farms where Americans of all political stripes became what Foley calls 'accidental activists.' These were men and women who, in response to upheavals within their own communities, collectively created a robust civic culture that has been—up until now—largely forgotten. This is a wonderful book that should permanently lay to rest the claim that the 1970s and 1980s were decades of simple conservative domination or political quiescence."
—Natasha Zaretsky, author of No Direction Home: The American Family and the Fear of National Decline, 1968–1980
"Foley counters the conventional take that there was a sharp and sudden letdown in civic activism after the sixties . . . [An] antidote for those still demoralized by decennial mythologies."
—The Nader Page

"In this remarkable history, Michael Stewart Foley makes the case that [the 1970s and 80s] cannot be understood in terms of a simple partisan shift from left to right, or liberal to conservative. Nor, he suggests, can these years be seen as a time of quiescence or retreat. Instead, they were characterized by an intense, angry, and impassioned style of activism on issues that spanned the political spectrum . . . Foley's book is packed with vivid accounts of the battles he covers, many of which will be unfamiliar to readers today."
—Dissent Magazine
or
Not Currently Available for Direct Purchase