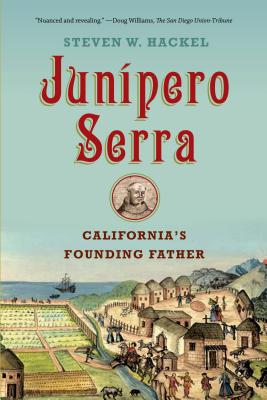 Junipero Serra
California's Founding Father
Paperback

* Individual store prices may vary.
Other Editions of This Title:
Hardcover (9/3/2013)
Description
Winner of the Historical Society of Southern California's 2015 Neuerburg Award for the best book on Pre-Gold Rush California
Finalist for the Southern California Independent Bookseller Association's Best Nonfiction Book of 2014

A Zocalo Public Square Best Nonfiction Book of 2013
A portrait of the priest and colonialist who is one of the most important figures in California's history
In the 1770s, just as Britain's American subjects were freeing themselves from the burdens of colonial rule, Spaniards moved up the California coast to build frontier outposts of empire and church. At the head of this effort was Junípero Serra, an ambitious Franciscan who hoped to convert California Indians to Catholicism and turn them into European-style farmers. For his efforts, he has been beatified by the Catholic Church and widely celebrated as the man who laid the foundation for modern California. But his legacy is divisive. The missions Serra founded would devastate California's Native American population, and much more than his counterparts in colonial America, he remains a contentious and contested figure to this day.
Steven W. Hackel's groundbreaking biography, Junípero Serra: California's Founding Father, is the first to remove Serra from the realm of polemic and place him within the currents of history. Born into a poor family on the Spanish island of Mallorca, Serra joined the Franciscan order and rose to prominence as a priest and professor through his feats of devotion and powers of intellect. But he could imagine no greater service to God than converting Indians, and in 1749 he set off for the new world. In Mexico, Serra first worked as a missionary to Indians and as an uncompromising agent of the Inquisition. He then became an itinerant preacher, gaining a reputation as a mesmerizing orator who could inspire, enthrall, and terrify his audiences at will. With a potent blend of Franciscan piety and worldly cunning, he outmaneuvered Spanish royal officials, rival religious orders, and avaricious settlers to establish himself as a peerless frontier administrator. In the culminating years of his life, he extended Spanish dominion north, founding and promoting missions in present-day San Diego, Los Angeles, Monterey, and San Francisco. But even Serra could not overcome the forces massing against him. California's military leaders rarely shared his zeal, Indians often opposed his efforts, and ultimately the missions proved to be cauldrons of disease and discontent. Serra, in his hope to save souls, unwittingly helped bring about the massive decline of California's indigenous population.
On the three-hundredth anniversary of Junípero Serra's birth, Hackel's complex, authoritative biography tells the full story of a man whose life and legacies continue to be both celebrated and denounced. Based on exhaustive research and a vivid narrative, this is an essential portrait of America's least understood founder.
Praise For Junipero Serra: California's Founding Father…
"Meticulously researched . . . a must-read for anyone interested in Serra, California, or the history of colonialism in the Americas." —Publishers Weekly
"A consummate archivist of California history, Hackel has produced a definitive Golden State biography." —Kirkus Reviews
"At last, in Steven W. Hackel's Junípero Serra, we have an intelligent and authoritative biography of the founder of California. Hackel's engaging narrative deftly transports us to the end of the eighteenth century and the frontier of the Spanish empire. His Serra is neither sinner nor saint, but rather a devout idealist who quietly helps unleash powerful forces of social change. Junípero Serra is an essential contribution to the history of the West." —Héctor Tobar, author of The Barbarian Nurseries
"Junípero Serra was a man for all seasons: a saint as well as an ogre, a 'founding father,' an agricultural visionary, and a merciless imperialist—in short, a figure whose legacy is nothing if not polarizing. Steven W. Hackel is a courageous biographer. His portrait of the Franciscan priest who invented California doesn't shy away from controversy: it is as evenhanded as it is humane. It proves, yet again, that this nation wasn't built only by Puritans; it was also shaped by Spanish conquistadores, explorers, and missionaries whose choices continue to define us in countless ways." —Ilan Stavans, general editor of The Norton Anthology of Latino Literature
"Steven W. Hackel's stunning biography so fully re-creates Father Junípero Serra's eighteenth-century life that one can almost feel the passionate certitude and searing drive that Serra employed to convert so many native Californians to Christianity and the cultural destruction and human emptiness that Serra's success unleashed upon them after his death. Hackel's exhaustive research quietly magnifies the measured judgments that propel this compellingly intimate yet historically expansive biography. It surpasses anything ever written about the West Coast's most potent and controversial 'founding father.'" —Ilan Stavans, general editor of The Norton Anthology of Latino Literature
"In this rich portrait of Father Junípero Serra, we see entire worlds collide, overlap, and forever influence one another. As complex and remarkable as the times in which he lived, Serra has long deserved a careful, smart, and judicious study, and now we have it." —William Deverell, chair, Department of History, University of Southern California
"Steven W. Hackel's Junípero Serra is both a compelling narrative and a comprehensive study of the complexities of Serra's life and the transformative events of his time. A masterpiece." —José Refugio de la Torre Curiel, author of Twilight of the Mission Frontier
"Junípero Serra is a must-read for anyone interested in the history of California and for lovers of biography." —Sylvia L. Hilton, coeditor of Nexus of Empire
Hill and Wang, 9780809062393, 368pp.
Publication Date: September 30, 2014
About the Author
Steven W. Hackel is an associate professor of history at the University of California, Riverside, and the author of the award-winning Children of Coyote, Missionaries of Saint Francis: Indian-Spanish Relations in Colonial California, 1769–1850 and Junípero Serra: California's Founding Father, forthcoming from Hill and Wang. He also directs a project in digital history, the Early California Cultural Atlas, and is co-curator of the Huntington Library's exhibit, Junípero Serra and the Legacies of the California Missions. He lives in Pasadena, California.