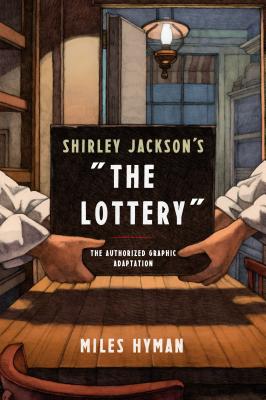 Shirley Jackson's "The Lottery"
The Authorized Graphic Adaptation
Hardcover

* Individual store prices may vary.
Other Editions of This Title:
Prebound (10/25/2016)
Paperback (10/25/2016)
Description
Winner of the 2017 Solliès Comics Festival's Best Adult Graphic Novel

The classic short story--now in full color
Shirley Jackson's short story "The Lottery" continues to thrill and unsettle readers nearly seven decades after it was first published. By turns puzzling and harrowing, "The Lottery" raises troubling questions about conformity, tradition, and the ritualized violence that may haunt even the most bucolic, peaceful village.
This graphic adaptation by Jackson's grandson Miles Hyman allows readers to experience "The Lottery" as never before, or to discover it anew. He has crafted an eerie vision of the hamlet where the tale unfolds and the unforgettable ritual its inhabitants set into motion. Hyman's full-color, meticulously detailed panels create a noirish atmosphere that adds a new dimension of dread to the original story.
Shirley Jackson's "The Lottery": The Authorized Graphic Adaptation stands as a tribute to Jackson, and reenvisions her iconic story as a striking visual narrative.
Praise For Shirley Jackson's "The Lottery": The Authorized Graphic Adaptation…
55 Books to Read This Fall, Entertainment Weekly
The Books of Fall: Thirteen Intriguing New Titles, Houston Chronicle
"Nearly seventy years after the first publication of 'The Lottery,' Jackson's grandson Miles Hyman has created a 'graphic adaptation' in dreamlike slow motion . . . Hyman's most inspired, or audacious, idea is to provide background for the action of June 27 in a prequel dramatizing the evening of June 26 when the grim-faced town elders responsible for the lottery meet to prepare ballots for the drawing, and a tenderly erotic visualization of Tessie Hutchinson on the morning of her death, disrobing, gazing at herself in a mirror, and bathing—for the final time. In an astonishing act of sympathy, Hyman presents Tessie Hutchinson as intensely female; it is perhaps only when the victim-to-be is naked and alone that she acquires a singular identity, if only to surrender it soon. The final illustration depicts the town without any people at all—not a scene in Jackson's story, but hauntingly effective here." —Joyce Carol Oates, The New York Review of Books

"Shirley Jackson's dreadful small-town tale comes alive in the hands of her grandson, Miles Hyman." —Entertainment Weekly
"The author's grandson, Miles Hyman, has added his own take to her unsettling tale about conformity and violence in small-town America: a graphic novel, illustrated in lush, noirish detail." —Anna Russell, The Wall Street Journal
"Gorgeous . . . Hyman translates his grandmother's famously spare, unyielding prose into an implacably ominous visual journey through one day in a small town with a dark secret." —Claire Fallon, The Huffington Post
"A lusciously visual presentation of his grandmother's chilling story." —Jan Gardner, The Boston Globe
"A beautiful book . . . in the way that [it] stays faithful to Jackson's story, and also in the subtle interweaving of new meanings, Hyman's graphic adaptation is an exceptional work of art." —Dawn Keetley, PopMatters
"One of the strongest graphic adaptations of a classic work to come along in some time." —Summer Hayes, Booklist
"[Hyman uses] his illustrations to push a little further than his grandmother's words did . . . in Hyman's hands, Jackson's story flabbergasts all over again." —Alyson Ward, Houston Chronicle
"This authorized adaptation by Miles Hyman is a handsome version that turns Jackson's setting and characters into real places and people through exquisite [artwork]. His vision of the people and the settings is spot on perfect, adding to the horror of the story." —Michael Sangiacomo, The Plain Dealer (Cleveland)

"[A] beautiful graphic novel adaptation of the classic, chilling story." —Mike Donachie, Waterloo Region Record

"A stunning graphic adaptation of a chilling classic . . . Hyman's illustrations are powerful: rich and evocative graphic realism, softly colored, marrying Rockwell-ian and American Gothic style . . . A haunting story of humanity's herd mentality, brilliantly rendered." —Kirkus Reviews (starred review)
"Imbues realistic characters with a blocky stoicism in full-color panels flooded with sun-parched orange light . . . [A] standout work." —Martha Cornog, Library Journal (starred review)
"Kids who hate reading and adults who dare to make movies in their heads will find this book haunting, terrifying, gorgeous—and unforgettable." —Jesse Kornbluth, HeadButler.com

"Hyman's style is suitably old-fashioned, with plenty of shadows throughout, lending a spooky, overcast feeling to the down-home community . . . [and] adding up to a creeping feeling of dread. It's the horror of the mundane, of what seemingly normal people will do without questioning." —Comics Worth Reading
"This adaptation just may bring a new generation of readers to Jackson's unnerving work, and we think that's worth celebrating." —Elizabeth Rowe, Bookish
"Hyman's eloquent foreword, which will be reason alone for Jackson devotees to buy this book, reflects on his brief relationship with grandma Shirley [Jackson] . . . Hyman's take on 'The Lottery' is . . . a project validated by its quality and attention to those fine details you might have missed within the original prose, or perhaps interpreted otherwise. Hyman's opening and closing shots, which reveal the idyllic town at dawn on the morning of the titular lottery and with serenity restored by the following dusk, are simply masterful." —Carl Doherty, Shelf Abuse
"Miles Hyman's stunning adaptation of 'The Lottery' has all the understated menace of the original, and may be even more disquieting." —Ruth Franklin, author of Shirley Jackson: A Rather Haunted Life
"Miles Hyman's hypnotic retelling of 'The Lottery' provides readers with an unsettling truth: the shocking often feasts on a diet of the mundane. With each panel, the sheer ordinariness gathers in a claustrophobic and terrifying way, and the art accretes a grotesque richness." —Jeff VanderMeer, bestselling author of the Southern Reach trilogy and winner of the Shirley Jackson Award
Hill and Wang, 9780809066490, 160pp.
Publication Date: October 25, 2016
About the Author
Miles Hyman is an artist who specializes in graphic novels and adaptations of classic literature. His work has been shown in galleries around the world and has appeared in publications such as The New Yorker, The New York Times, and GQ. He is the grandson of Shirley Jackson. He lives in Paris.
or
Not Currently Available for Direct Purchase