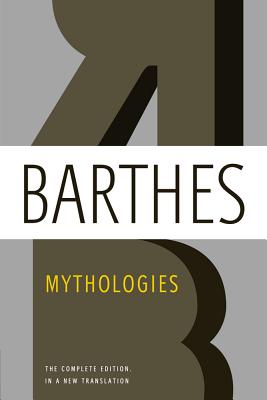 Mythologies
The Complete Edition, in a New Translation
Paperback

* Individual store prices may vary.
Other Editions of This Title:
Paperback (6/2/2014)
Paperback (1/1/1972)
Compact Disc (3/13/2012)
Hardcover (3/13/2012)
MP3 CD (3/13/2012)
Paperback, Chinese (9/5/2019)
Compact Disc (3/13/2012)
Description
"No denunciation without its proper instrument of close analysis," Roland Barthes wrote in his preface to Mythologies. There is no more proper instrument of analysis of our contemporary myths than this book—one of the most significant works in French theory, and one that has transformed the way readers and philosophers view the world around them.

Our age is a triumph of codification. We own devices that bring the world to the command of our fingertips. We have access to boundless information and prodigious quantities of stuff. We decide to like or not, to believe or not, to buy or not. We pick and choose. We think we are free. Yet all around us, in pop culture, politics, mainstream media, and advertising, there are codes and symbols that govern our choices. They are the fabrications of consumer society. They express myths of success, well-being, or happiness. As Barthes sees it, these myths must be carefully deciphered, and debunked.

What Barthes discerned in mass media, the fashion of plastic, and the politics of postcolonial France applies with equal force to today's social networks, the iPhone, and the images of 9/11. This new edition of Mythologies, complete and beautifully rendered by the Pulitzer Prize–winning poet, critic, and translator Richard Howard, is a consecration of Barthes's classic—a lesson in clairvoyance that is more relevant now than ever.
Praise For Mythologies: The Complete Edition, in a New Translation…
"Teacher, man of letters, moralist, philospher of culture, connoisseur of strong ideas, protean autobiographer . . . of all the intellectual notables who have emerged since World War II in France, Roland Barthes is the one whose work I am most certain will endure" —Susan Sontag

"One of the great public teachers of our time, someone who thought out, argued for, and made available serveral steps in a penetrating reflection on language sign systems, texts --and what they have to tell us about the concept of being human" —Peter Brooks

"With so much new material now included, this volume is not an unabridged reissue so much as a celebration anew." —Publishers Weekly

"Barthes was one of the major French critics of the 20th century, and this fuller translation will be of interest to English-speaking students of French and comparative literature as well as to cultural anthropologists." —Library Journal

"As this new translation and expansion of a seminal work by the French semiotician and philosopher demonstrates, Barthes remains ahead of his time, and our time, more than 30 years after his death.... It's remarkable that essays written more than a half-century ago, on another continent, should seem not merely pertinent but prescient in regard to the course of contemporary American culture." —Kirkus Reviews
Hill and Wang, 9780809071944, 288pp.
Publication Date: March 12, 2013
About the Author
Roland Barthes (1915-1980) was a French cultural and literary critic, whose clever and lyrical writings on semiotics made structuralism one of the leading movements of the twentieth century. Barthes had a cult following and published seventeen books, including Camera Lucida, Mythologies, and A Lover's Discourse.

Richard Howard is a poet, scholar, teacher, critic, and translator. Paper Trail is published simultaneously by FSG with Howard's Inner Voices: Selected Poems, 1963-2003. He teaches at Columbia University and is poetry editor of The Paris Review.