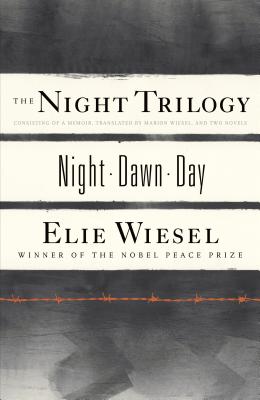 The Night Trilogy (Paperback)
Night, Dawn, Day
Hill and Wang, 9780809073641, 352pp.
Publication Date: April 15, 2008
Other Editions of This Title:
Hardcover (6/1/2004)
* Individual store prices may vary.
Description
Night is one of the masterpieces of Holocaust literature. First published in 1958, it is the autobiographical account of an adolescent boy and his father in Auschwitz. Elie Wiesel writes of their battle for survival and of his battle with God for a way to understand the wanton cruelty he witnesses each day. In the short novel Dawn (1960), a young man who has survived World War II and settled in Palestine joins a Jewish underground movement and is commanded to execute a British officer who has been taken hostage. In Day (previously titled The Accident, 1961), Wiesel questions the limits of conscience: Can Holocaust survivors forge a new life despite their memories? Wiesel's trilogy offers insights on mankind's attraction to violence and on the temptation of self-destruction.
About the Author
Elie Wiesel (1928-2016) is the author of more than fifty books, including Night, his harrowing account of his experiences in Nazi concentration camps. The book, first published in 1955, was selected for Oprah's Book Club in 2006, and continues to be an important reminder of man's capacity for inhumanity. Wiesel was Andrew W. Mellon Professor in the Humanities at Boston University, and lived with his family in New York City. He was awarded the Nobel Peace Prize in 1986.
Praise For The Night Trilogy: Night, Dawn, Day…
"A slim volume of terrifying power." —The New York Times
"Required reading for all humanity." —Oprah Winfrey
"Wiesel has taken his own anguish and imaginatively metamorphosed it into art." —Curt Leviant, Saturday Review
"To the best of my knowledge no one . . . has left behind him so moving a record." —Alfred Kazin, The Reporter
"What makes this book so chilling is not the pretense of what happened but a very real description of every thought, fear and the apathetic attitude demonstrated as a response . . . Night, Wiesel's autobiographical masterpiece, is a heartbreaking memoir. Wiesel has taken his painful memories and channeled them into an amazing document which chronicles his most intense emotions every step along the way." —Jose Del Real, Anchorage Daily News
"As a human document, Night is almost unbearably painful, and certainly beyond criticism." —A. Alvarez, Commentary
Coverage from NPR