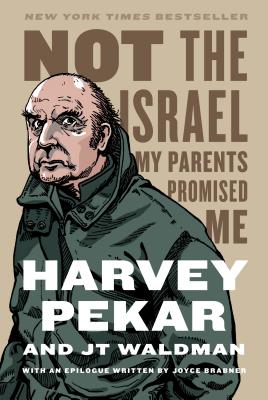 Not the Israel My Parents Promised Me (Paperback)
Hill & Wang, 9780809074044, 172pp.
Publication Date: July 1, 2014
Description
In "Not the Israel My Parents Promised Me," one of the final graphic memoirs from the man who defined the genre, Harvey Pekar explores what it means to be Jewish and what Israel means to the Jews. Pekar's mother was a Zionist by way of politics, his father by way of faith, and he inevitably grew up a staunch supporter of Israel. But as he became attuned to the wider world, Pekar began to question his parents' most fundamental beliefs.
This book is the full account of that questioning. Over the course of a single day in his hometown of Cleveland, Ohio, Pekar and the illustrator JT Waldman wrestle with the mythologies passed down to them, weaving a personal and historical odyssey of uncommon wit and power. With an epilogue written by Joyce Brabner, "Not the Israel My Parents Promised Me" is an es-
sential book for fans of Harvey Pekar and anyone interested in the past and future of the Jewish state.
About the Author
Harvey Pekar is best known for his graphic autobiography, American Splendor, which was based on his long-running comic-book series and was adapted into a film of the same name. He died in 2010. JT Waldman is an artist, interactive designer, and comic-book creator. He is the author and illustrator of the graphic novel Megillat Esther. He lives in Philadelphia. Joyce Brabner is an award-winning author of graphic books. She frequently collaborated with her late husband, Harvey Pekar, on his American Splendor series. She lives in Cleveland.
Praise For Not the Israel My Parents Promised Me…
"[Pekar's] message here is important—that a good Jew asks tough questions, that a history of oppression requires us to be more conscious of the oppressed."
—David L. Ulin, Los Angeles Times

"This posthumous publication reflects the seminal graphic memoirist at his edgy best."
—Kirkus (starred review)

"[T]his posthumous work by Pekar functions as a multipronged exploration of religious, political, and personal histories and is all the richer for it . . . A sweet and simple epilogue by Pekar's widow, Joyce Brabner, provides the perfect capstone."
—Publishers Weekly

"This is not only Pekar's greatest work, but probably the most powerful use of his talent for plainly speaking truth to power and ignorance. JT Waldman masterfully captures the wry innocence of Harvey's interrogation while still celebrating the subtle contours of modern American Jewishness."
—Douglas Rushkoff, author of Life Inc. and Program or Be Programmed

"A fascinating history of the so-called Promised Land—as seen through the eyes of an estranged Jew from Cleveland. Brimming with classic Pekar asides and details, the book sheds light on a subject often obscured by heat. JT Waldman's evocative artwork combines down-to-earth American Splendor–style illustrations with motifs inspired by everything from mythology and Islamic art to illuminated manuscripts and Chagall. I never got to say goodbye to Harvey, but reading this book was like having a final conversation with him."
—Josh Neufeld, American Splendor artist, and author and artist of A.D.: New Orleans After the Deluge

"Pekar peppers accounts of perpetual persecution with poignant autobiographical anecdotes in this concise, compelling, and sure-to-be controversial graphic history of the Jewish people and the state of Israel. JT Waldman's art, juxtaposing realism with ancient styles, rocking exquisite mosaics and elaborate medieval and Middle Eastern design flourishes, is nothing less than a majestic tour de Schwartz."
—Jeff Newelt, Heeb Magazine comics editor, and editor of Harvey Pekar's Cleveland

"Not the Israel My Parents Promised Me is Harvey Pekar's final exploration of his conflict over the history of Israel, as illuminated by JT Waldman's protean art. This is their Jewish Book of Hours."
—Dean Haspiel, artist of The Quitter and Cuba: My Revolution

"One part history lesson, one part autobiography, and all Harvey Pekar, Not the Israel My Parents Promised Me is an insightful look at one of the burning topics of our time. With Pekar's scholarship and humor and JT Waldman's stylistically varied art, this graphic book is visually entertaining and highly informative."
—Peter Kuper, artist of The Metamorphosis
Advertisement