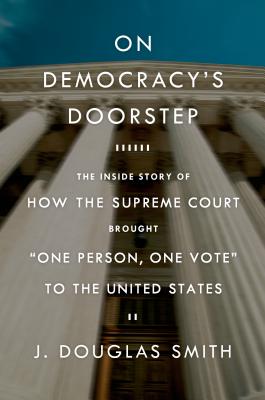 On Democracy's Doorstep
The Inside Story of How the Supreme Court Brought "One Person, One Vote" to the United States: The Inside Story of How the Supreme Court Brought "One Person, One Vote" to the United States
Hardcover

* Individual store prices may vary.
Other Editions of This Title:
Paperback (6/23/2015)
Description
Winner of the Henry Adams Prize from the Society for History in the Federal Government
A Washington Post Notable Work of Nonfiction
A Slate Best Book of 2014

The inside story of the Supreme Court decisions that brought true democracy to the United States
As chief justice of the U.S. Supreme Court, Earl Warren is most often remembered for landmark rulings in favor of desegregation and the rights of the accused. But Warren himself identified a lesser known group of cases-Baker v. Carr, Reynolds v. Sims, and their companions-as his most important work. J. Douglas Smith's On Democracy's Doorstep masterfully recounts the tumultuous and often overlooked events that established the principle of "one person, one vote" in the United States.
Before the Warren Court acted, American democracy was in poor order. As citizens migrated to urban areas, legislative boundaries remained the same, giving rural lawmakers from sparsely populated districts disproportionate political power-a power they often used on behalf of influential business interests. Smith shows how activists ranging from city boosters in Tennessee to the League of Women Voters worked to end malapportionment, incurring the wrath of chambers of commerce and southern segregationists as they did so. Despite a conspiracy of legislative inaction and a 1946 Supreme Court decision that instructed the judiciary not to enter the "political thicket," advocates did not lose hope. As Smith shows, they skillfully used the Fourteenth Amendment's Equal Protection Clause to argue for radical judicial intervention. Smith vividly depicts the unfolding drama as Attorney General Robert F. Kennedy pressed for change, Solicitor General Archibald Cox cautiously held back, young clerks pushed the justices toward ever-bolder reform, and the powerful Senate Minority Leader Everett Dirksen obsessively sought to reverse the judicial revolution that had upended state governments from California to Virginia.
Today, following the Court's recent controversial decisions on voting rights and campaign finance, the battles described in On Democracy's Doorstep have increasing relevance. With erudition and verve, Smith illuminates this neglected episode of American political history and confronts its profound consequences.
Praise For On Democracy's Doorstep: The Inside Story of How the Supreme Court Brought "One Person, One Vote" to the United States: The Inside Story of How the Supreme Court Brought "One Person, One Vote" to the United States…
"Smith's impressive research recaptures an otherwise unremembered chapter in U.S. history . . . On Democracy's Doorstep recounts a triumphant story of constitutional reform that dramatically advanced the promise of democracy." —David Garrow, The Washington Post
"Smith is an accessible and knowledgeable storyteller . . . [He] provides a fascinating, behind-the-scenes look at how the Supreme Court came to decide the cases that came to shape our political system . . . there is much to enjoy in On Democracy's Doorstep's detailed accounting of the creation of the principle of 'one person, one vote.'" —Jessica Levinson, Los Angeles Review of Books
"'One person, one vote' lies at the heart of democracy. J. Douglas Smith tells the gripping story of how the U.S. Supreme Court boldly acted in the 1960s to bring that ideal closer to reality. And he unearths the first stirrings of backlash that augured today's polarized politics. A fascinating blend of political, legal, and social history." —Michael Waldman, President, Brennan Center for Justice at NY U School of Law, and author of The Second Amendment: A Biography
"A topic as important and serious as voting deserves an important and serious book. This is it. J. Douglas Smith has done a masterful job of untangling the reapportionment thicket." —Julian Bond, former chairman of the NAACP and Distinguished Adjunct Professor, American University
"One man, one vote' is the bedrock of American democracy, yet it was not always that way.  J. Douglas Smith's On Democracy Doorstep is the scintillating account of how that doctrine became the law of the land during the 1960s. This is not only a great work of historical scholarship, but a page-turner as well.  With Smith's unparalleled knowledge of history in the making, we are led on a constitutional odyssey: to the strategy sessions of Robert Kennedy's Justice Department, the inner deliberations of Earl Warren's Supreme Court, and the clash of legal titans in their oral arguments before the Court.  Smith describes as never before the network of young and idealistic lawyers around the United States who championed the cause of reapportionment as a vital bulwark of democracy.  My father, Theodore Sachs, was one of them, and Smith brilliantly describes the passions, ideas, and drama of the great constitutional battle that I witnessed as a young boy.  This is the definitive account of one of the epochal decisions of the US Supreme Court, one that Chief Justice Earl Warren himself regarded as 'the most vital' of his era." —Jeffrey D. Sachs, Director of the Earth Institute at Columbia University
"Over the course of our country's history, our ability to live up to our founders' vision has been tested time and time again. J. Douglas Smith tells the story of the people who met one of the most critical of these tests. This is the story of citizens, elected leaders, activists, lawyers, and judges who, over time, developed a deeper understanding of what true self-governance means. It's a story that reminds us that our key founding principle-that in a democracy, everybody counts-is worth fighting for. And that it must be protected with constant vigilance." —Maggie Hassan, Governor of New Hampshire
"J. Douglas Smith's On Democracy's Doorstep is the definitive legal whodunit about the creation of the 'one person, one vote' standard. Smith reminds us--now when it's vitally important to recall it--that the doctrine was neither obvious nor certain, and that a colorful, interconnected crew of country lawyers, litigation experts, journalists, and justices toiled for years to bring it into existence." —Dahlia Lithwick, Supreme Court correspondent, Slate
"Today, the principle of 'one person, one vote' is fundamental to democracy--but it wasn't always so. On Democracy's Doorstep tells how the Supreme Court decided to enter the political thicket and create the modern law of democracy, and how a proposed constitutional amendment almost reversed the Court. In today's era of partisan gerrymandering and the overturning of the Voting Rights Act, this book could not be more timely and relevant." —Noah Feldman, Professor, Harvard Law School, and author of Scorpions: The Battles and Triumphs of FDR's Great Supreme Court Justices
"On Democracy's Doorstep is a superb account of the Supreme Court's critical 'one person, one vote' decision. It is thoroughly researched and beautifully written. Everyone who cares about American democracy will want to read this book." —Gary May, Professor of History, University of Delaware, and author of Bending Toward Justice: The Voting Rights Act and the Transformation of American Democracy
"On Democracy's Doorstep is the compelling story of how a president and a Supreme Court rescued American democracy a half century ago--a vitally important book for our democracy's new age of crisis." —John Fabian Witt, Professor, Yale Law School, and author of Lincoln's Code: The Laws of War in American History
"A fascinating account of a crucial yet little-known chapter in American history, On Democracy's Doorstep is a meticulously reported, thoughtfully written inside story of the momentous legal doctrine that profoundly shaped American politics." —Ari Berman, author of Herding Donkeys: The Fight to Rebuild the Democratic Party and Reshape American Politics
"[On Democracy's Doorstep] is invaluable for anyone who wishes to understand the court, especially those who aren't familiar with legal jargon . . . Smith gives us the knowledge that imparts the power to change and, more importantly, the hope that it can succeed." —Kirkus (starred review)
"As historian Smith ably demonstrates, beginning in the late 19th century, malapportionment--the uneven representation of constituents by lawmakers--became the most serious threat to political equality . . . Smith takes a novel angle and writes with a light touch." —Publishers Weekly
Hill and Wang, 9780809074235, 384pp.
Publication Date: June 10, 2014
About the Author
J. Douglas Smith is the author of Managing White Supremacy: Race, Politics, and Citizenship in Jim Crow Virginia, which received the 2003 Library of Virginia Literary Award in Nonfiction. He is the director of humanities at the Colburn Music Conservatory and lives in Los Angeles with his wife and two children.
or
Not Currently Available for Direct Purchase