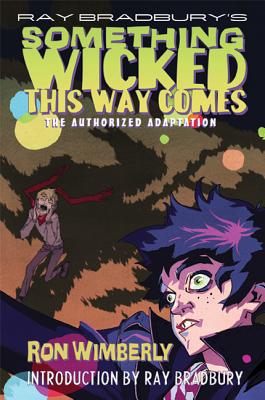 Ray Bradbury's Something Wicked This Way Comes (Paperback)
The Authorized Adaptation
Hill & Wang, 9780809080441, 130pp.
Publication Date: July 19, 2011
Description
Cooger and Dark's Pandemonium Shadow Show howls into Green Town, Illinois, at three in the morning a week before Halloween. Under its carnival tents is a mirror maze that steals wishes; a carousel that promises eternal life, in exchange for your soul; the Dust Witch, who unerringly foresees your death; and Mr. Dark, the Illustrated Man, who has lived for centuries off the misery of others. Only two boys, Will Halloway and Jim Nightshade, recognize the dark magic at work and have a plan to stop this ancient evil--that is, if it doesn't kill them first.
Something Wicked This Way Comes is Ray Bradbury's incomparable work of dark fantasy, and the gifted illustrator Ron Wimberly has stunningly captured its sinister magic in gorgeously realized black-and-white art. Complete with an original introduction by Bradbury, Ray Bradbury's Something Wicked This Way Comes: The Authorized Adaptation reintroduces this thrilling classic.
About the Author
Ray Bradbury (1920-2012) was one of science fiction's greatest luminaries. The author of such classic, important works as Fahrenheit 451, The Martian Chronicles, and Something Wicked This Way Comes, Bradbury was honored in 2007 with a Pulitzer citation "for his distinguished, prolific and deeply influential career as an unmatched author of science fiction and fantasy." Other distinctions include a 1954 honor from the National Institute of Arts and Letters, a Medal for Distinguished Contribution to American Letters from the National Book Foundation in 2000, and the National Medal of Arts, awarded by President George W. Bush and Laura Bush in 2004. He was also an Emmy Award-winning screenwriter. Born in Waukegan, Illinois in 1920, Bradbury spent most of his life in Los Angeles, where he passed away in 2012.Ron Wimberly has worked on such DC/Vertigo titles as Swamp Thing and Lucifer. He is the illustrator of the graphic novel Sentences: The Life of M. F. Grimm, which won the Glyph Award for best story and for best cover and was nominated for the Eisner Award for best reality-based title.
Advertisement