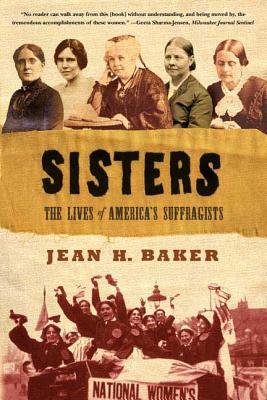 Sisters (Paperback)
The Lives of America's Suffragists
Hill and Wang, 9780809087037, 304pp.
Publication Date: August 22, 2006
* Individual store prices may vary.
Description
How the Personal Became Political In the Fight to Grant Women Civil Rights
They forever changed America: Lucy Stone, Susan B. Anthony, Elizabeth Cady Stanton, Frances Willard, Alice Paul. At their revolution's start in the 1840s, a woman's right to speak in public was questioned. By its conclusion in 1920, the victory in woman's suffrage had also encompassed the most fundamental rights of citizenship: the right to control wages, hold property, to contract, to sue, to testify in court. Their struggle was confrontational (women were the first to picket the White House for a political cause) and violent (women were arrested, jailed, and force-fed in prisons). And like every revolutionary before them, their struggle was personal.
For the first time, the eminent historian Jean H. Baker tellingly interweaves these women's private lives with their public achievements, presenting these revolutionary women in three dimensions, humanized, and marvelously approachable.
About the Author
Jean H. Baker is a professor of history at Goucher College. She is the author of several books, including The Stevensons, Mary Todd Lincoln, Margaret Sanger, and Sisters: The Lives of America's Suffragists. She lives in Baltimore, Maryland.
Praise For Sisters: The Lives of America's Suffragists…
"Goucher history professor Jean H. Baker shows us the human web that shaped five women in their self-awareness, nonconformity and leadership in the struggle for suffrage…By weaving together their public and private lives, Baker deepens our appreciation for the warp and woof of their struggle." —Anne Grant, The Providence Journal
"Sisters: The Lives of America's Suffragists by historian Jean Baker (Hill and Wang) unspools the lives of Lucy Stone, Susan B. Anthony, Elizabeth Cady Stanton, Frances Willard and Alice Paul as it unfolds the story of the women's rights movement. The story, itself compelling, becomes more so in Baker's skillful hands. No reader can walk away from this without understanding, and being moved, by the tremendous accomplishments of these women." —Geeta Sharma-Jensen, Milwaukee Journal Sentinel
"Baker's book gives a clear picture of these women whose passion for equal rights led them to spend their lives seeking social change." —Stell Simonton, The Atlanta Journal-Constitution