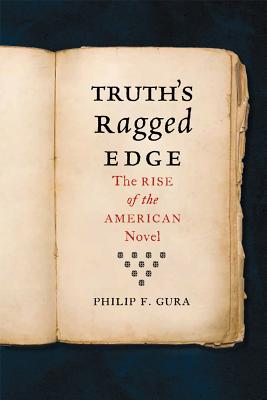 Truth's Ragged Edge (Hardcover)
The Rise of the American Novel
Farrar Straus Giroux, 9780809094455, 330pp.
Publication Date: April 9, 2013
Other Editions of This Title:
Paperback (4/15/2014)
* Individual store prices may vary.
Description
From the acclaimed cultural historian Philip F. Gura comes Truth's Ragged Edge, a comprehensive and original history of the American novel's first century. Grounded in Gura's extensive consideration of the diverse range of important early novels, not just those that remain widely read today, this book recovers many long-neglected but influential writers such as the escaped slave Harriet Jacobs, the free black Philadelphian Frank J. Webb, and the irrepressible John Neal to paint a complete and authoritative portrait of the era. Gura also gives us the key to understanding what sets the early novel apart, arguing that it is distinguished by its roots in "the fundamental religiosity of American life." Our nation's pioneering novelists, it turns out, wrote less in the service of art than of morality.
This history begins with a series of firsts: the very first American novel, William Hill Brown's The Power of Sympathy, published in 1789; the first bestsellers, Susanna Rowson's Charlotte Temple and Hannah Webster Foster's The Coquette, novels that were, like Brown's, cautionary tales of seduction and betrayal; and the first native genre, religious tracts, which were parables intended to instruct the Christian reader. Gura shows that the novel did not leave behind its proselytizing purpose, even as it evolved. We see Catharine Maria Sedgwick in the 1820s conceiving of A New-England Tale as a critique of Puritanism's harsh strictures, as well as novelists pushing secular causes: George Lippard's The Quaker City, from 1844, was a dark warning about growing social inequality. In the next decade certain writers Hawthorne and Melville most famously began to depict interiority and doubt, and in doing so nurtured a broader cultural shift, from social concern to individualism, from faith in a distant god to faith in the self.
Rich in subplots and detail, Gura's narrative includes enlightening discussions of the technologies that modernized publishing and allowed for the printing of novels on a mass scale, and of the lively cultural journals and literary salons of early nineteenth-century New York and Boston. A book for the reader of history no less than the reader of fiction, Truth's Ragged Edge the title drawn from a phrase in Melville, about the ambiguity of truth is an indispensable guide to the fascinating, unexpected origins of the American novel.
About the Author
Philip F. Gura is the William S. Newman Distinguished Professor of American Literature and Culture at the University of North Carolina at Chapel Hill. He is the author of American Transcendentalism: A History, which was a finalist for the 2007 National Book Critics Circle Award in nonfiction, as well as many other books of American cultural history.
Praise For Truth's Ragged Edge: The Rise of the American Novel…
"An enthralling work of literary recovery . . . If you think that academics now only write for each other, this book will come as a revelation . . . In his acknowledgments, Gura writes that his book was partly inspired by Edmund Wilson's magisterial Patriotic Gore: Studies in the Literature of the American Civil War. Future scholars will be comparably inspired by Truth's Ragged Edge."
—Michael Dirda, The Washington Post

"Comprehensive and fresh . . . spirited . . . [Truth's Ragged Edge is] driven by a desire to encourage a new generation to read a forgotten trove of writing."
—The Times Literary Supplement

"Lucid . . . a rewarding and reliable guide."
—Michael Gorra, The Wall Street Journal

"Fascinating . . . a nimble synthesis of a vital period in literary history, tracing our homegrown novel's evolution from morality tale to self-aware interiority, traversing and incorporating the countless currents of regionalism, faith, urbanization, and exploration that swept across the nation's early decades."
—The Weekly Standard

"Certain to become a new classic . . . a masterful examination of the origins of the distinctive American novel . . . a must read for the serious book lover who wishes to understand how the novel became so manifestly American, to understand how strikingly American thought evolved and created a form widely divergent from its European origins . . . Truth's Ragged Edge is a major contribution to literary criticism and will be read and appreciated in American studies classes for years to come."
—About.com

"[Gura] breathes new life into old and largely forgotten novels . . . this book creatively revives the age of ecstatic religion, the steam locomotive, and the daguerreotype. It charts the steady rise of female authorship and of a book-hungry American middle class. It captures the movement, as one later chapter heading reads, 'from a theology of the feelings to an ethic of love.' And it contrasts with the thoughtless dependence of generations reared on soap operas and video games, recovering the unfamiliar contours of a stricter society that somehow gave birth to a thoughtful individualism."
—The Advocate (Baton Rouge)

"Gura provides a long-awaited new map of American fiction."
—The American Scholar

"Literary criticism on a grand scale."
—Harvard Magazine

"Nostalgic, inclusive, and a lot of fun. Packed with information about all the weird and wonderful 19th-century novels Americans have never read . . . provides a uniquely retro (19th century) summer reading list . . . [Gura's] principle of selection is expansive, giving pride of place to a sprawling archive of popular domestic and sentimental novels."
—Los Angeles Review of Books

"Those who agree with Hemingway's claim that Huckleberry Finn created all modern American fiction will find this study of our pre-Twain literary tradition illuminating . . . Gura tempers this book's thrill of discovery over forgotten voices and stories with a still-relevant warning that the fearless individualism of American fiction can come dangerously close to solipsism."
—Publishers Weekly

"An outstanding book."
—Library Journal

"Philip F. Gura has written the most ambitious, most comprehensive study ever attempted of American fiction from its beginnings to 1868. You will find here some novelists you've never heard of alongside old friends such as Cooper, Hawthorne, and Melville. By looking at novels thematically, and in the light of American religious history, Gura has produced a profoundly new kind of literary history, one linked beyond dispute to American theological concerns and American religious life. This book will change the way you look at the American novel. A grand achievement."
—Robert D. Richardson, Bancroft Prize–winning author of William James: In the Maelstrom of American Modernism

"Updated literary history at its very best. By assimilating recent rediscoveries of Afro-American and women's fictions—and adding new insights and new titles of his own—Philip F. Gura has given us the only comprehensive study of the tumultuous, ever-growing marketplace of the early American novel. He shows us how the 'sentimental' tradition of women's domestic fiction became an unexpected vehicle for conveying spiritual and social heresy."
—John McWilliams, College Professor, Middlebury College

"Most modern-day readers wander into early American fiction as if it were the back lot of an old movie studio—full of strangely garbed frontiersmen ready for wilderness adventure. Truth's Ragged Edge brilliantly brings us face-to-face with dozens of fictional characters much more like us—urban, introspective, worried about moral survival in a money-grubbing society. Philip F. Gura's book has created a new genealogy of American anxiety."
—Richard Rabinowitz, President, American History Workshop

"Philip F. Gura's capacious book offers insightful literary analyses, deft book summaries, and concise biographies of authors that will be of great use to those interested in American fiction during its formative period."
—David S. Reynolds, award-winning author of Walt Whitman's America: A Cultural Biography

"Truth's Ragged Edge will allow you to reengage the classic novelists of the nineteenth century and to discover the long-neglected ones as well. Philip F. Gura packs a wealth of information about the early American novel into this illuminating study, and he writes movingly about novelists wrestling with the ideals and realities of democratic liberalism."
—Robert S. Levine, General Editor, The Norton Anthology of American Literature
or
Not Currently Available for Direct Purchase