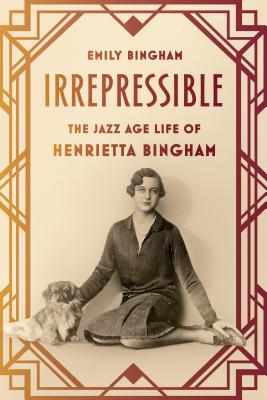 Irrepressible
The Jazz Age Life of Henrietta Bingham
Hardcover

* Individual store prices may vary.
Other Editions of This Title:
Paperback (6/21/2016)
Compact Disc (11/17/2015)
MP3 CD (11/17/2015)
Compact Disc (11/17/2015)
MP3 CD (11/17/2015)
Description
Raised like a princess in one of the most powerful families in the American South, Henrietta Bingham was offered the helm of a publishing empire. Instead, she ripped through the Jazz Age like an F. Scott Fitzgerald character: intoxicating and intoxicated, selfish and shameless, seductive and brilliant, endearing and often terribly troubled. In New York, Louisville, and London, she drove both men and women wild with desire, and her youth blazed with sex. But her love affairs with women made her the subject of derision and caused a doctor to try to cure her queerness. After the speed and pleasure of her early days, the toxicity of judgment from others coupled with her own anxieties resulted in years of addiction and breakdowns. And perhaps most painfully, she became a source of embarrassment for her family-she was labeled "a three-dollar bill." But forebears can become fairy-tale figures, especially when they defy tradition and are spoken of only in whispers. For the biographer and historian Emily Bingham, the secret of who her great-aunt was, and just why her story was concealed for so long, led to Irrepressible: The Jazz Age Life of Henrietta Bingham.
Henrietta rode the cultural cusp as a muse to the Bloomsbury Group, the daughter of the ambassador to the United Kingdom during the rise of Nazism, the seductress of royalty and athletic champions, and a pre-Stonewall figure who never buckled to convention. Henrietta's audacious physicality made her unforgettable in her own time, and her ecstatic and harrowing life serves as an astonishing reminder of the stories lying buried in our own families.
Praise For Irrepressible: The Jazz Age Life of Henrietta Bingham…
"Henrietta Bingham's greatest achievement was making people fall in love with her. Thus she offers a delicious excuse to be back in a time and among a group in which love was celebrated with gratifying complexity and tenderness . . . You can read Irrepressible strictly for plot because [Emily] Bingham . . . propels us along at the exhilirating clip of the sporty Sunbeam in which Henrietta drove her Bloomsbury friends around the British countryside. Its literary value, though, is that of an attenuated tragedy, reminding us of our continuing failure to help people, wealthy or poor, who can't quite survive life, even as they try valiantly to live it." —Miranda Purves, The New York Times Book Review
"Henrietta Bingham, the great-aunt of the author of this haunting biography, is best remembered for her association with the Bloomsbury group . . . Bingham captures both the giddy rebellion of her aunt's youth and her slow, startling unravelling." —The New Yorker
"Henrietta Bingham was one of those entrancing creatures more often met in books than in life . . . Emily Bingham's painstaking reconstruction of Henrietta's story shows that she was a pioneer of sorts—a poignant case of a life unspooled before the world was ready for her odd grace." —Edward Kosner, The Wall Street Journal
"In this sensitive and emotionally rich biography . . . [Henrietta Bingham] flashes unforgettably back into life." —Joanna Scutts, The Washington Post
"The life of Henrietta Bingham, as recounted by her great-niece Emily in Irrepressible, is so engrossing that readers will finish the book astonished at not having heard of her before . . . Emily Bingham has given us a faithful unretouched portrait of a bewitching, courageous, sometimes maddening woman . . . My advice is don't wait for the movie--get a copy of this engaging book and read it now." —Jennie Rathbun, Lambda Literary
"Irrepressible is the absorbing, deeply moving, and brilliantly researched story of an intoxicating woman whose personal life was as turbulent as the times she lived in: Henrietta Bingham dazzles the reader as she dazzled the artists, writers, and musicians around her in the Jazz Age and beyond." —Frances Osborne, author of The Bolter
"A colorful portrait of a daring woman. F. Scott Fitzgerald never invented a Jazz-Age seductress as bold, brash, and devastating as Henrietta Bingham (1901-1968), the author's great-aunt . . . . Throughout, the author ably illuminates the character of her great-aunt, who 'took freedom as far as she could.' Deeply researched, Bingham's engrossing biography brings her glamorous, tormented ancestor vividly to life. " —Kirkus Reviews
"Deeply researched and written with passion, this is the story of a tantalizing and unconventional woman in her elusive search for happiness. Irrepressible lives up to its dramatic title." —Michael Holroyd, author of A Book of Secrets
"With Irrepressible, Emily Bingham has forensically crafted a riveting story of the American South, as her great aunt's taboo-shattering sexual odyssey spirals out of control. The mesmerizing It Girl crashes headlong into Jazz Age Bloomsbury; the result is a literary masterpiece of ground-breaking social history." —Geordie Greig, author of Breakfast with Lucian
"Emily Bingham's lively and intimate life of Henrietta Bingham sheds surprising light on one Jazz Age woman's transatlantic adventures. Irrepressible gives us a hard-drinking, Harlem-loving temptress who captivated women and men alike, in both England and the United States, leaving the ground littered with their broken hearts. But it's also the story of a woman torn between her love for her controlling father and the desire to live life on her own terms." —Gretchen Holbrook Gerzina, author of Mr. and Mrs. Prince
"In crisp, graceful prose, Bingham trails her great-aunt from an athletic youth shadowed by her mother's death and father's marriages through her years as a magical presence and muse to her middle-age descent into breakdowns and addiction . . . With meticulous research and compassion, her great-niece has put some of those pieces together and Henrietta back in the Bingham family album." —Jane Sumner, The Dallas Morning News
Farrar, Straus and Giroux, 9780809094646, 384pp.
Publication Date: June 16, 2015
About the Author
Emily Bingham is the great-niece of Henrietta Bingham. She is the author of Mordecai: An Early American Family and co-editor of The Southern Agrarians and the New Deal: Essays After I'll Take My Stand. She earned a Ph.D. from University of North Carolina-Chapel Hill and frequently teaches at Centre College. She lives with her family in Louisville, Kentucky.
or
Not Currently Available for Direct Purchase