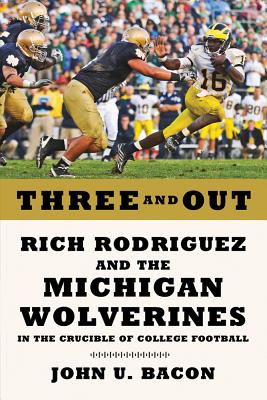 Three and Out (Hardcover)
Rich Rodriguez and the Michigan Wolverines in the Crucible of College Football
Farrar, Straus and Giroux, 9780809094660, 448pp.
Publication Date: October 25, 2011
* Individual store prices may vary.
Description
Three and Out tells the story of how college football's most influential coach took over the nation's most successful program, only to produce three of the worst seasons in the histories of both Rich Rodriguez and the University of Michigan.  Shortly after his controversial move from West Virginia, where he had just taken his alma mater to the #1 ranking for the first time in school history, Coach Rich Rodriguez granted author and journalist John U. Bacon unrestricted access to Michigan's program.  Bacon saw it all, from the meals and the meetings, to the practices and the games, to the sidelines and the locker rooms.  Nothing and no one was off limits.  John U. Bacon's Three and Out is the definitive account of a football marriage seemingly made in heaven that broke up after just three years, and lifts the lid on the best and the worst of college football.
About the Author
John U. Bacon has written for "Time," "The New York Times," and "ESPN Magazine," among other publications, earning national honors. He is the author of five books on sports and business, including "Bo's Lasting Lessons "(with Bo Schembechler), a "New York Times "and "Wall Street Journal "business bestseller. Bacon teaches at Northwestern University and the University of Michigan and is a popular public speaker.
Praise For Three and Out: Rich Rodriguez and the Michigan Wolverines in the Crucible of College Football…
"John U. Bacon found himself with the kind of access unheard of in modern athletics. The result is a remarkable book . . . [If] you are simply a fan of college football, or interested in big-time college athletics more generally, it is a fascinating read." —The National Review

"A fascinating look inside the workings of a major-college football program. Rodriguez's failure was everyone's fault and no one's. Unreasonable expectations combined with bad decisions and bad luck led to three bad seasons. Not acceptable at Michigan. Fine reading for college-football fans." —ALA Booklist

"John U. Bacon's Three and Out [is] an epic piece of reporting behind the scenes of a college football program going to hell." —New York Magazine

"Rich Rodriguez never had a chance as coach of the Michigan Wolverines. He showed up with a glowing resume and got himself eaten alive. John Bacon's account of Rodriguez's epic failure is a cautionary tale for anyone who doesn't realize that being a major college football coach requires one to be part CEO, part psychologist, part carny barker, and all crazy." —Charles P. Pierce, author of Moving The Chains: Tom Brady and the Pursuit Of Everything

"College basketball has Season on the Brink. High school football has Friday Night Lights. Now college football has Three and Out, which takes you inside the locker room to show you what it's really like to be a college football coach and player. If it surprised me—and it did—I'm sure it will surprise even hardcore fans. If you care about college football, you'll want this book." —Adam Schefter, ESPN

"John U. Bacon is one of the best reporters/writers of my generation. Three and Out proves it. It's one of the most riveting non-fiction works I've read in years, in any genre. The eyewitness details from the locker room, the sidelines, and the most powerful offices on a college campus are breathtaking. Get this book. You will thank me." —David Shuster, Emmy Award-winning broadcast journalist

"When, several millennia from now, archeologists excavate American ruins as archeologists have done those of Carthage, they may be mystified by the Big House in Ann Arbor, Michigan. How did this 109,901 seat football emporium come to be connected to an institution of higher education? Or was the connection the other way? Without waiting 2,000 years, readers can join John U. Bacon on his eye-opening, and occasionally jaw-dropping, report on the weird world of college football." —George F. Will
or
Not Currently Available for Direct Purchase