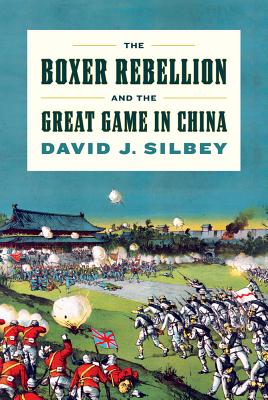 The Boxer Rebellion and the Great Game in China (Hardcover)
Hill & Wang, 9780809094776, 304pp.
Publication Date: March 27, 2012
* Individual store prices may vary.
Description
The year is 1900, and Western empires both old and new are locked in regional entanglements across the globe. The British are losing a bitter war against the Boers while the German kaiser is busy building a vast new navy. The United States is struggling to put down an insurgency in the South Pacific while the upstart imperialist Japan begins to make clear to neighboring Russia its territorial ambition. In China, a perennial pawn in the Great Game, a mysterious group of superstitious peasants is launching attacks on the Western powers they fear are corrupting their country. These ordinary Chinese called Boxers by the West because of their martial arts showmanship rise up, seemingly out of nowhere. Foreshadowing the insurgencies of the more recent past, they lack a centralized leadership and instead tap into latent nationalism and deep economic frustration to build their army. Their battle cry: "Support the Qing, exterminate the foreigners."
Many scholars brush off the Boxers as an ill-conceived and easily defeated revolt, but the military historian David J. Silbey shows just how close they came to beating back the combined might of all the imperial powers. Drawing on the diaries and letters of allied soldiers and diplomats, Silbey paints a vivid portrait of the short-lived war. Even though their cause ended just as quickly as it began, the bravery and patriotism of the Boxers would inspire Chinese nationalists including a young Mao Zedong for decades to come.
About the Author
David J. Silbey teaches at Cornell University's Washington, D.C., campus. He is the author of A War of Frontier and Empire: The Philippine-American War, 1899 1902."
Praise For The Boxer Rebellion and the Great Game in China…
[T]houghtful and concisely told . . . Silbey excels at the military history." —Howard W. French, The Wall Street Journal

"[A] concise, lively account." —Publishers Weekly

"Silbey furnishes fluent, scholastically sound reading for general interest in modern Chinese history." —Booklist

"Recommended for readers interested in military history as well as modern Chinese history." —Allan Cho, Library Journal

"In this absorbing analysis of the military history of the Boxer conflict, David J. Silbey shows how swiftly the Boxers learned from their foreign enemies, and how close the foreign forces came to catastrophe. The Boxer Rebellion is a valuable addition to our histories of warfare and revolution in China." —Jonathan Spence, Sterling Professor of History Emeritus, Yale University, and author of The Search for Modern China

"It is news even to many informed Americans that the present Chinese government has closely studied a military invasion (involving thousands of U.S. troops) of China more than a century ago. David J. Silbey now tells the story of that historic intervention, complete with the formidable Chinese, European, Japanese, and American characters, and the needed historical contexts. He has accomplished this with a gemlike narrative that is as page-turning as it is succinct." —Walter LaFeber, Tisch University Professor Emeritus, Cornell University

"David J. Silbey has done students, teachers, and general readers a great service by presenting the Boxer Rebellion in a lucid and compelling narrative. This book helps us to understand not just what happened in China more than a century ago, but what is happening there now." —Michael S. Neiberg, author of Fighting the Great War

"David J. Silbey has a remarkable capacity for explaining a war from the perspective of various participants and for presenting in a clear and efficient way the political, cultural, strategic, and military factors that shape the course of a war. Readers of The Boxer Rebellion and the Great Game in China will understand how the joint expedition in 1900 to suppress this popular anti-foreign uprising became a significant turning point in the miserable history of modern imperial expansion into China and Great Power competition over it." —Alan Lessoff , Professor of History, Illinois State University
or
Not Currently Available for Direct Purchase