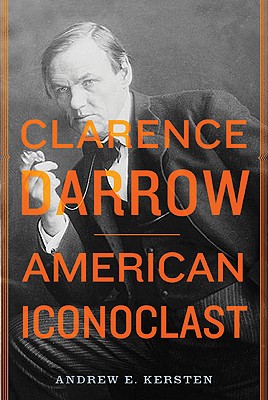 Clarence Darrow: American Iconoclast (Hardcover)
American Iconoclast
Hill and Wang, 9780809094868, 320pp.
Publication Date: April 26, 2011
* Individual store prices may vary.
or
Not Currently Available for Direct Purchase
Description
Clarence Darrow is best remembered for his individual cases, whether defending the thrill killers Leopold and Loeb or John Scopes's right to teach evolution in the classroom. In the first full-length biography of Darrow in decades, the historian Andrew E. Kersten narrates the complete life of America's most legendary lawyer and the struggle that defined it, the fight for the American traditions of individualism, freedom, and liberty in the face of the country's inexorable march toward modernity.  Prior biographers have all sought to shoehorn Darrow, born in 1857, into a single political party or cause. But his politics do not define his career or enduring importance. Going well beyond the familiar story of the socially conscious lawyer and drawing upon new archival records, Kersten shows Darrow as early modernity's greatest iconoclast. What defined Darrow was his response to the rising interference by corporations and government in ordinary working Americans' lives: he zealously dedicated himself to smashing the structures and systems of social control everywhere he went. During a period of enormous transformations encompassing the Gilded Age and the Progressive Era, Darrow fought fiercely to preserve individual choice as an ever more corporate America sought to restrict it.
About the Author
Andrew E. Kersten is the Frankenthal Professor of History in the Department of Democracy and Justice Studies at the University of Wisconsin, Green Bay. He received his PhD in American history from the University of Cincinnati in 1997. He is the author of "Race, Jobs, and the War: The FEPC in the Midwest," "Politics and Progress: The American State and Society since the Civil War," "A. Philip Randolph: A Life in the Vanguard," and "Labor's Home Front: The American Federation of Labor during the Second World War." He has also written about Wisconsin history and the history of the city of Green Bay.
Praise For Clarence Darrow: American Iconoclast…
"Kersten reveals a man whose life took nearly every possible turn: a corporate attorney who became labor's leading lawyer; an ambitious politico who came to detest political parties; a devout pacifist who drummed up support for war. Kersten, who has written two books on labor history, focuses much of American Iconoclast on Darrow's role in the big labor trials of the late 19th and early 20th centuries. The book is at its best in this section, with vivid portraits of the front line in what was seen at the time as a great war between capital and labor." —Milwaukee Journal-Sentinel "Forty years ago, Clarence Darrow's life story inspired me to sell my successful publishing company and found a civil rights law firm. Readers of Andrew E. Kersten's riveting new account of this great infectious trial lawyer will no doubt consider leaving life as usual and joining Darrow's quest for justice. Kersten's well-written book reveals Darrow as an early crusader against corporate abuse of human rights in the mold of Upton Sinclair, Ralph Nader, and Michael Moore." —Morris Dees, founder and chief trial counsel, Southern Poverty Law Center "Andrew E. Kersten's Clarence Darrow is a superb biography, at once highly readable and historically astute. It is full of personality and politics, a compelling narrative that illuminates how Darrow's complex and contradictory legal career helped define and animate twentieth-century American liberalism." —Nelson Lichtenstein, MacArthur Foundation Chair in History, UC Santa Barbara, and author of The Retail Revolution: How Wal-Mart Created a Brave New World of Business "Kersten explodes Darrow's messy, complicated life . . . This is no hagiography, but rather a portrait of a truly human character trying to effect change while battling private demons." —Kirkus Reviews "The brilliance and daring of Darrow's legal strategies make this skillful, absorbing biography most riveting, especially with his masterful handling of the controversial Leopold-Loeb case, the unpopular Scopes 'monkey trial,' and the Sweet case, where a black family defended their home from attacks by their white neighbors." —Publishers Weekly "A richly detailed but accessible account of Clarence Darrow's complicated life . . . Unlike many Darrow biographies, this one shows how much more there was to the man than law and politics. Highly recommended for all interested readers and all libraries." —Stephen L. Hupp, Library Journal
Advertisement