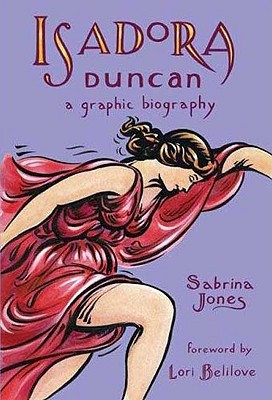 Isadora Duncan: A Graphic Biography (Hardcover)
A Graphic Biography
Hill & Wang, 9780809094974, 129pp.
Publication Date: November 11, 2008
* Individual store prices may vary.
or
Not Currently Available for Direct Purchase
Description
Myth and controversy still swirl around the dramatic figure of Isadora Duncan. The pioneering modern dancer emerged from provincial nineteenth-century America to captivate the cultural capitals of Europe, reinvent dance as a fine art, and leave a trail of scandals in her wake. From her unconventional California girlhood to her tragic death on the French Riviera fifty years later, Duncan's journey was an uncompromising quest for truth, beauty, and freedom.
Here Duncan's art and ideas come vividly to life. Each page is a unique dance of words and images, reflecting Duncan's courage, passion, and idealism in a way sure to inspire another generation of admirers.
About the Author
Sabrina Jones's art has appeared in "World War 3 Illustrated," "Female Complaints," "Bitchcraft," and "Life During Wartime." A native of Philadelphia, she co-founded and edited "Girltalk," published by Fantagraphics.
Praise For Isadora Duncan: A Graphic Biography…
"Isadora Duncan and comics have a great deal in common: convention defying, boundary breaking, innovative, and seductive as hell. Which is why comics are the perfect vehicle to transmit her remarkable story. Sabrina Jones's drawings dance across the page and capture this compelling history." —Peter Kuper, cartoonist and cofounder of World War 3 Illustrated "At last, a comic for the rest of us! With bold brush strokes, Sabrina Jones delineates the riveting tale of Isadora Duncan, a real life superheroine who controlled her own body, her own life, and her own mind, back in the days when most women were corseted, voteless, and stuck in the kitchen. Jones' pages are as elegant and graceful as the heroine of her biography." —Trina Robbins, author of Tender Murderers and The Brinkley Girls: The Life and Times of Nell Brinkley (forthcoming) "Told with economy, precision, and humor, Isadora Duncan: A Graphic Biography is an impressive debut." —Harvey Pekar "An admiring glance at the truncated life and roller-coaster times of the woman who traversed three continents to revolutionize dance." —Kirkus Reviews "It looks like a comic book, and it is a ton of fun. But Sabrina Jones's graphic depiction of the life of Isadora Duncan is also a serious work of biography . . . In just 125 fluidly drawn pages, Jones brings Duncan's astonishing creativity, revolutionary fervor and romantic disasters to life." —Lynn Jacobson, The Seattle Times "An effective and surprisingly economical portrait of one of the seminal figures in dance and culture of the past 100 years." —Michael Gill, Cleveland Free Times "A fine and balanced account for dancers, artists, and those interested in American rebels." —Francisca Goldsmith, School Library Journal "In her debut graphic biography, Jones captures Duncan's dramatic story in an impressive fashion. Who knew plain black-and-white illustrations could come so alive, so full of movement and feeling?" —Laura Koffler, Feminist Review "One delight after another emerges." —Ken Keuffel, Winston-Salem Journal "Illustration is an ideal medium for relating Duncan's life and art . . . The head thrown back in ecstasy, or her whole body whooshed sideways as if caught on the wind—here a picture speaks a thousand words." —Mary Hodges, The Brooklyn Rail
Advertisement