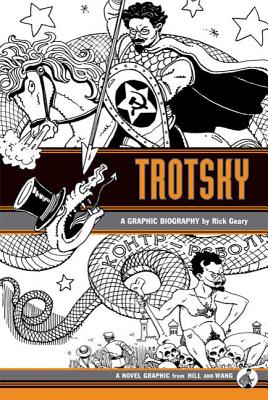 Trotsky: A Graphic Biography (Hardcover)
A Graphic Biography
Hill & Wang, 9780809095087, 103pp.
Publication Date: September 29, 2009
Description
Trotsky was a hero to some, a ruthless demon to others. To Stalin, he was such a threat that he warranted murder by pickax. This polarizing figure set up a world conflict that lasted through the twentieth century, and in Trotsky: A Graphic Biography, the renowned comic artist Rick Geary uses his distinct style to depict the stark reality of the man and his times. Trotsky's life becomes a guide to the creation of the Soviet Union, the horrors of World War I, and the establishment of international communism as he, Lenin, and their fellow Bolsheviks rise from persecution and a life underground to the height of political power. Ranging from his boyhood in the Ukraine to his fallout with Stalin and his moonlight romance with Frida Kahlo, Trotsky is a stunning look at one of the twentieth century's most important thinkers and the far-reaching political trends that he launched.
About the Author
Rick Geary is an award-winning cartoonist and illustrator. His most recent projects include J. Edgar Hoover: A Graphic Biography (H&W, 2008) and his continuing graphic series, A Treasury of Victorian Murder and A Treasury of XXth Century Murder.
Praise For Trotsky: A Graphic Biography…
"A concise and powerful overview of one of the twentieth century's most influential people." —Michael Lorah, Newsarama.com "Rick Geary deftly reclaims Trotsky for the middle class . . . Geary doesn't shy away from quoting Trotsky's writings that were pro-revolutionary and pro-violent uprising, but the book projects a sympathetic view of its starring character." —Suzi Steffen, Eugene Weekly "Geary's familiar cartoonlike drawing style and factual presentation make this title an accessible and concise introduction to Trotsky's life." —Matthew L. Moffett, School Library Journal "A swift-moving, generally accurate view of Trotsky's life, guaranteed to send orthodox Stalinists into fits." —Kirkus Reviews "An ace at history in comics form, Geary turns here to the Russian revolution as seen through the life of Leon Trotsky." —Steve Weinberg, Booklist 
Advertisement