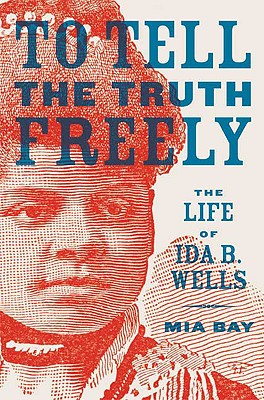 To Tell the Truth Freely (Hardcover)
The Life of Ida B. Wells
Hill and Wang, 9780809095292, 384pp.
Publication Date: February 17, 2009
Other Editions of This Title:
Paperback (2/2/2010)
* Individual store prices may vary.
Description
Born to slaves in 1862, Ida B. Wells became a fearless antilynching crusader, women's rights advocate, and journalist. Wells's refusal to accept any compromise on racial inequality caused her to be labeled a "dangerous radical" in her day but made her a model for later civil rights activists as well as a powerful witness to the troubled racial politics of her era. In the richly illustrated To Tell the Truth Freely, the historian Mia Bay vividly captures Wells's legacy and life, from her childhood in Mississippi to her early career in late nineteenth-century Memphis and her later life in Progressive-era Chicago. Wells's fight for racial and gender justice began in 1883, when she was a young schoolteacher who traveled to her rural schoolhouse by rail. Forcibly ejected from her seat on a train one day on account of her race, Wells immediately sued the railroad. Though she ultimately lost her case on appeal in the Supreme Court of Tennessee, the published account of her legal challenge to Jim Crow changed her life, propelling her into a career as an outspoken journalist and social activist. Also a fierce critic of the racial violence that marked her era, Wells went on to launch a crusade against lynching that took her across the United States and eventually to Britain. Though she helped found the NAACP in 1910 after resettling in Chicago, she would not remain a member for long. Always militant in her quest for racial justice, Wells rejected not only Booker T. Washington's accommodationism but also the moderating influence of white reformers within the early NAACP. The life of Ida B. Wells and her enduring achievements are dramatically recovered in Mia Bay's To Tell the Truth Freely.
About the Author
Mia Bay is an associate professor of history at Rutgers University and the associate director of Rutgers's Center for Race and Ethnicity. She is also the author of "The White Image in the Black Mind: African-American Ideas About White People, 1830-1925."
Praise For To Tell the Truth Freely: The Life of Ida B. Wells…
"Mia Bay . . . brings dimension to history's minimalist portrait of [Ida B. Wells] in her insightful new biography . . . Bay's book gives credit where it's long overdue." —Sandy Nelson, The Santa Fe New Mexican "In the richly illustrated To Tell the Truth Freely, the historian Mia Bay vividly captures Wells's legacy and life, from her childhood in Mississippi to her early career in late nineteenth-century Memphis and her later life in Progressive-era Chicago." —The African American Book Review "In this remarkable book, Mia Bay understands Ida B. Wells in full—as thinker, writer, crusader, politician, and woman of the world. Finally, we have a biography worthy of one of the bravest and most influential activists in U.S. history." —Michael Kazin, author of A Godly Hero: The Life of William Jennings Bryan "Ida B. Wells is one of America's most important yet relatively unknown historical figures. Absorbing and insightful, To Tell the Truth Freely deftly chronicles the way in which her extraordinary life and career altered the evolution of race and democracy in late nineteenth- and early twentieth century America." —Peniel E. Joseph, author of Waiting 'Til the Midnight Hour: A Narrative History of Black Power in America "Mia Bay's biography of Ida B. Wells is as sharp and sassy as the woman herself. The vigilance and bravado of this dynamic black woman crusader shines through on every page. Bay's triumphant tapestry reveals the life and times of an unsung heroine woven into battles for African American freedom." —Catherine Clinton, author of Harriet Tubman: The Road to Freedom "At last—an eloquent, concise, yet richly detailed account of Ida B. Wells. Beautifully crafted, this book restores Wells to her rightful place in American political history by telling her story with verve and grace." —Barbara D. Savage, author of Your Spirits Walk Beside Us: The Politics of Black Religion "Superb . . . Having been squeezed out of a role in national civil and women's rights organizations, Wells lost a prominent place in the historical record. It took several generations before her relentless and often discomforting agitation for social justice received the appreciation it deserved, as scholars over the last twenty years gradually reestablished her place in history. Mia Bay's lucid biography contributes enormously to this project." —Andrew Feffer, History News Network
or
Not Currently Available for Direct Purchase