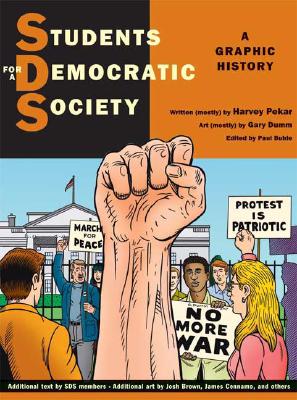 Students for a Democratic Society
A Graphic History
Hardcover

* Individual store prices may vary.
Other Editions of This Title:
Paperback (4/27/2009)
Description
The History of SDS as You've Never Seen It Before
In 1962 at a United Auto Workers' camp in Michigan, Students for a Democratic Society held its historic convention and prepared the famous Port Huron Statement, drafted by Tom Hayden. This statement, criticizing the U.S. government's failure to pursue international peace or address domestic inequality, became the organization's manifesto. Its last convention was held in 1969 in Chicago, where, collapsing under the weight of its notoriety and popularity, it shattered into myriad factions. Through brilliant art and they were-there dialogue, famed graphic novelist Harvey Pekar, gifted artist Gary Dumm, and renowned historian Paul Buhle illustrate the tumultuous decade that first defined and then was defined by the men and women who gathered under the SDS banner. "Students for a Democratic Society: A Graphic History" captures the idealism and activism that drove a generation of young Americans to believe that even one person's actions can help transform the world.
Praise For Students for a Democratic Society: A Graphic History…
"Students for a Democratic Society: A Graphic History will make old timers remember, discuss, argue and laugh, while the young will bubble with questions. For me, it brought back untold memories and induced visions of the next great wave of social activism!"—Michael James, JOIN/SDS organizer, founder of Rising Up Angry, and proprietor of Chicago's Heartland Cafe
"My own radical journey began with Mad Magazine, so it feels great that SDS should enter the culture of comic folklore thanks to Harvey Pekar and Paul Buhle. May this graphic history be an informing contribution as a new generation of SDS writes its own story."   —Tom Hayden, founding member of the Students for a Democratic Society
"Hey!  Did you know grandpa was a revolutionary?  If you want the inside story from SDS veterans themselves, with a minimum of rhetoric and a maximum of sex, drugs, violence, and internal faction-fighting, check out this wonderful graphic history.    Almost—but not quite—like being there.  You'll laugh, you'll cry, and no cop will hit you over the head, either.  Grandma and grandpa's bedtime stories are guaranteed to get the children dreaming of their own anti-imperialist movement."  —Mark Rudd, a founder of the Weather Underground, the last National Secretary of SDS, and the Chairman of the Columbia University chapter of SDS during the 1968 student strike
"Students for a Democratic Society: A Graphic History brings the historical power of SDS to life for the new generation of SDS activists. At a time when the state repression and militarism of the 1960's and 70's finds its closest parallel in the Iraq War and the Patriot Act, this accessible book maps out the legacy of resistance our generation has inherited. This is mandatory reading for serious, young organizers who desire to combat oppression while avoiding the errors of their predecessors."  —Senia Barragan, Brown University/Providence SDS
Hill & Wang, 9780809095391, 214pp.
Publication Date: January 8, 2008
About the Author
Harvey Pekar is best known for his graphic autobiography, "American Splendor," on which comic artist Gary Dumm collaborated. Paul Buhle, a senior lecturer at Brown University, was founding editor of the SDS journal "Radical America."
or
Not Currently Available for Direct Purchase