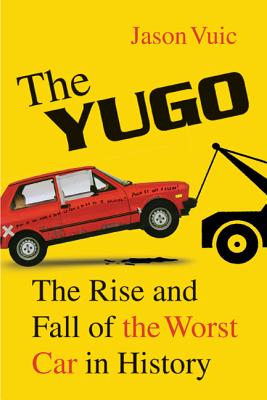 The Yugo
The Rise and Fall of the Worst Car in History
Paperback

* Individual store prices may vary.
Other Editions of This Title:
Compact Disc (3/8/2010)
MP3 CD (3/8/2010)
Compact Disc (3/8/2010)
Hardcover (3/2/2010)
Compact Disc (3/8/2010)
MP3 CD (3/8/2010)
Description
Six months after its American introduction in 1985, the Yugo was a punch line; within a year, it was a staple of late-night comedy. By 2000, NPR's Car Talk declared it "the worst car of the millennium." And for most Americans that's where the story begins and ends. Hardly. The short, unhappy life of the car, the men who built it, the men who imported it, and the decade that embraced and discarded it is rollicking and astounding, and one of the greatest untold business-cum-morality tales of the 1980s. Mix one rabid entrepreneur, several thousand "good" communists, a willing U.S. State Department, the shortsighted Detroit auto industry, and improvident bankers, shake vigorously, and you've got The Yugo: The Rise and Fall of the Worst Car in History.
Brilliantly re-creating the amazing confluence of events that produced the Yugo, Yugoslav expert Jason Vuic uproariously tells the story of the car that became an international joke: The American CEO who happens upon a Yugo right when his company needs to find a new import or go under. A State Department eager to aid Yugoslavia's nonaligned communist government. Zastava Automobiles, which overhauls its factory to produce an American-ready Yugo in six months. And a hole left by Detroit in the cheap subcompact market that creates a race to the bottom that leaves the Yugo . . . at the bottom.
Praise For The Yugo: The Rise and Fall of the Worst Car in History…
"[A] rollicking chronicle of the rise and fall of the homely little hatchback that couldn't . . . [Jason Vuic] weaves a tale about crazy socialist factories, just-as-crazy Western financial practices, geopolitics in the days of the Cold War and an American public yearning for affordable cars--all combined with the 'cutting edge Serbo-Croatian technology,' as the Yugo was referred to in the spoof movie version of 'Dragnet' . . . Mr. Vuic is as hard on the Western capitalism that fleetingly embraced the car as he is on the socialist system that produced it." —Dick Teresi, Wall Street Journal
"Vuic's book is thoroughly researched, with hundreds of annotations. Its true genius, however, is its fine focus not on the Yugo itself, but on Bricklin the man--an outsized opportunist, a thick-skinned mega-capitalist whose modus operandi was to overpromise and underdeliver, a Mr. Magoo oblivious to the wreckage all around him, a charming marketing manipulator who realizes he has crossed the line only when the subpoenas start flying. In short, a fascinating story well told." —John Phillips, Car and Driver
"Now, Jason Vuic has written an entire book about this wheezing shitbox. Entitled The Yugo: The Rise and Fall of the Worst Car in History, the book is an in-depth, brisk, and hilarious chronicle of the economic, mechanical, political, and cultural calamities that conspired to unleash this motorized monster on the American populace." —Brett Berk, Vanity Fair Daily
"A wonderfully sunny--and thoroughly researched--study of this iconic failure." —Stephen Lowman, Washington Post
"In his entertaining drive through the 1980s, Mr. Vuic uses the fatally well-publicized Yugo as the hook for a funny, tightly written book traversing politics, economics, marketing, communications, consumer safety (and dread)--and lots of spin." —Carlo Wolff, Pittsburgh Post-Gazette
"Jason Vuic, a professor of modern European history, could have easily written a straightforward takedown of the most maligned automobile since the Ford Pinto. Instead, he uses the Yugo as a vehicle for an insightful and witty look at car culture, a half-century of Balkan history, and the last decade of the Cold War." —Sonja Sharp, Mother Jones
"As historian Jason Vuic chronicles in his captivating, unexpected new book, for a fleeting moment amid the clichéd go-go excesses of the 1980s, the $3,995 Yugo--loosely based on a Fiat and produced by a one-time arms manufacturer called Zastava--captured the wallets, if not exactly the hearts, of Americans and introduced some oddball charm and entrepreneurial zest into the staid confines of the U.S. auto market. Vuic's history is a fascinating read, and an instructive one for the present moment." —Tom Vanderbilt, Slate
"Jason Vuic provides a thoroughly researched and illuminating account of what turned into a spectacular disaster." —The Economist
"A meticulous wide-ranging postmortem of a car that, at $3,990 brand new, was still overpriced." —Kevin Canfield, Star Tribune (Minneapolis-St. Paul)
"Entertaining and comprehensive." —Cary Darling, Star-Telegram (Dallas-Fort Worth)
"In a world where even our most reliable cars can turn out to be lemons (cough, Toyota), it's really something to be the world's worst car. That distinction belongs to the Yugo, subject of the enormously entertaining The Yugo . . . Read it if you love cars, or just want to experience the strange story of someone determined to give lemons life." —Very Short List
"If the Yugo was a lemon, Jason Vuic's surprising page-turner is the lemonade: even though we know how it's going to end (watch out for the iceberg, Yugo!), we're held rapt by Vuic's careful reconstruction of the peculiar history of a terrible idea." —Flavorwire
"Creating the Yugo required dozens of corporations, thousands of Yugoslavians, international diplomacy, a Cold War, marketing genius, consumer idiocy, and major screw-ups from not just one political ideology but all of them. Any knucklehead with a lawnmower engine and a monkey wrench can build a bad car. It took Communism, Socialism and Capitalism to build a Yugo. And Jason Vuic has the story." —PJ O'Rourke
"A crosscultural tale of the little car that couldn't. Thoroughly researched, tellingly told--and hilarious!" —Phil Patton, author of Bug: The Strange Mutations of the World's Most Famous Automobile
"Testimony to the dishonesty, gullibility, greed, cynicism, stupidity and incompetence of virtually everyone involved in attempting to palm off a ramshackle Balkan-made leftover on the hapless American car buyer who turned out not to be so hapless after all. The saga of the Yugo proves that failure may not be as instructive as success, but its lots more entertaining." —Bruce McCall, author of Marveltown
"Was the Yugo the worst car in history? No, although it wasn't far behind such automotive insults as the Trabant. Is this the most enjoyable car book of the year? Yes! Few car books can match Jason Vuic's supporting cast of earnest automotive executives, politicians and out-and-out hucksters. Chapter after chapter is filled with such outrageous actions in the name of selling cars that you have to keep repeating this mantra: 'It's not libel if it's true.' " —James B. Treece, Industry Editor, Automotive News
"A hoot for car enthusiasts and a case study for business schools." —Kirkus Reviews
"Here's all you ever wanted to know about the Yugo--and more! . . . Well researched, quite readable, and leavened with bits of humor." —Susan Hurst, Library Journal
Hill and Wang, 9780809098958, 272pp.
Publication Date: March 1, 2011
About the Author
Jason Vuic is an assistant professor of modern European history at Bridgewater College in Bridgewater, Virginia. He lives in Staunton, Virginia, with his wife, Kara.