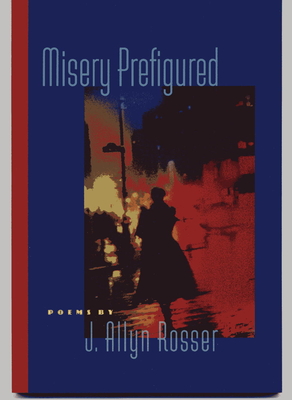 Misery Prefigured (Crab Orchard Series in Poetry)
Paperback

* Individual store prices may vary.
Description
In her second collection of poems, J. Allyn Rosser explores the human condition in all its gloriously valiant pathos. Misery Prefigured dwells on our continual reinventions of self and world and the restless dynamic that vibrates between them.Whether contemplating a failed marriage, a visit from God, or a pearl dropped into a bottle of Prell shampoo, Rosser's wry yet impassioned eye looks hard for a habitable and abiding truth.  Alternating between deadpan and dead serious, these poems are often darkly funny, exposing the contradictions inherent in every desire. Misery Prefigured is fueled by a cocky, unsentimental determination to make some consolatory sense of what passes for reality.
Praise For Misery Prefigured (Crab Orchard Series in Poetry)…
"It is Rosser's splendid articulation that impresses initially, not just that her poems are well written, but that they are so resolutely anchored in the idioms of speech and the necessities of the human heart. She ranges fluently from blues riffs to experimental lyrics and narratives, to formal poems of such confidence that they seem at once ancient and contemporary. And if Rosser cares deeply for balance, not the least pleasure in reading Misery Prefigured derives from a rage so fiercely governed that it puts one in mind of Yeats. I do not know of another poet so unafraid of the rhapsodic and yet so capable of high wit, of addressing the world's 'full frontal mundanity.'"—Rodney Jones, author of Elegy for the Southern Drawl
"J. Allyn Rosser's poems are savvy close-readings of her daily experience. She knows how to balance cynicism with the hope for love in language that is freshly minted and full of local surprises. In the words of her own metaphor, she writes with heart and wit about the friction inside the machine of her life."—Billy Collins, author of Questions about Angels
"Do not be misled by the darkness of this collection's title: Misery Prefigured is in fact one of the brightest volumes of verse to appear in a good long while. Partly this is due to Rosser's scintillating technique and her always refreshing use of the tradition, whether she is updating the wit and conceit-making of the Metaphysical and Cavalier poets or giving us a wryly feminist recasting of the vernacular of O'Hara and Schuyler. These qualities have always distinguished Rosser's work, but in this new collection they are accompanied by maturity of vision and a hard-won clarity that is more often seen in the writing of poets twice her age. J. Allyn Rosser is one of the most distinctive poets of her generation." —David Wojahn, author of The Falling Hour
Southern Illinois University Press, 9780809323838, 88pp.
Publication Date: April 9, 2001
About the Author
J. Allyn Rosser's first collection of poems, Bright Moves, won the Samuel French Morse Poetry Prize. She is the recipient of the Lavan Younger Poets Award from the Academy of American Poets, the Frederick Bock Prize from Poetry, a Pushcart Prize, and fellowships from the National Endowment for the Arts and the New Jersey State Council on the Arts. She teaches at Ohio University.
or
Not Currently Available for Direct Purchase