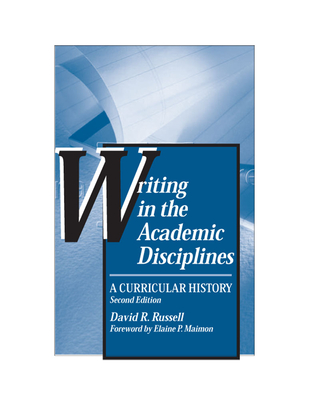 Writing in the Academic Disciplines, Second Edition
A Curricular History
Paperback

* Individual store prices may vary.
Description




" To understand the ways students learn to write, we must go beyond the small and all too often marginalized component of the curriculum that treats writing explicitly and look at the broader, though largely tacit traditions students encounter in the whole curriculum," explains David R. Russell, in the introduction to this singular study. The updated edition provides a comprehensive history of writing instruction outside general composition courses in American secondary and higher education, from the founding public secondary schools and research universities in the 1870s, through the spread of the writing-across-the-curriculum movement in the 1980s, through the WAC efforts in contemporary curriculums.


Praise For Writing in the Academic Disciplines, Second Edition: A Curricular History…
" A discipline comes of age when someone realizes that it possesses a history and stands for something worth arguing about— that it makes a difference, is thereby political, and can no longer be considered transparent and value-neutral. Such coming-of-age presupposes historical consciousness, not just the marked passage of time. This sense of consciousness David R. Russell offers to the profession of composition in Writing in the Academic Disciplines, a history of writing instruction seen ' not through the lens of the English department or through the lens of cultural and rhetorical history' but rather ' from the perspective of academic institutions, especially their disciplinary structure. . . .' " — Technical Communication Quarterly
" Writing in the Academic Disciplines is fascinating reading. The research is thorough and detailed. Along with contemporary and historical articles and books about writing instruction, Russell reviews and quotes from articles and books written by educators at the time, from college catalogs, and from personal reports of instruction. The personal accounts add human interest to the historical analysis, and the discussion of the cross-curricular writing programs as reflective of educational movements broadens the focus beyond English studies. In the depth and variety of its coverage, Writing in the Academic Disciplines adds dimension to other historical accounts of twentieth-century writing instruction."

— Journal of Technical Writing and Communication


Southern Illinois University Press, 9780809324675, 432pp.
Publication Date: September 4, 2002
About the Author
David R. Russell is a professor of English at Iowa State University, where he teaches rhetoric and professional communication. He has published many articles on writing across the curriculum and has coedited Landmark Essays on Writing Across the Curriculum, a special issue of Mind, Culture, and Activity, and Writing and Learning in Cross-National Perspective: Transitions from Secondary to Higher Education. He has given workshops and lectures on writing across the curriculum nationally and internationally, and he was the first Knight Visiting Scholar in Writing at Cornell University.


or
Not Currently Available for Direct Purchase