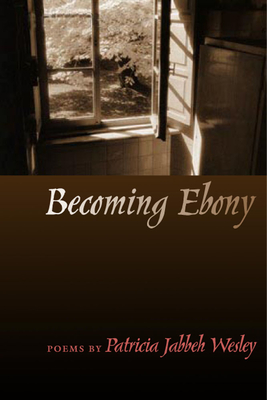 Becoming Ebony (Crab Orchard Series in Poetry)
Paperback

* Individual store prices may vary.
Description
Recapturing the celebratory voice of Africa in poems that are both contemporary and traditional, Liberian-born Patricia Jabbeh Wesley weaves lyrical storytelling with oral history and images of Africa and America, revealing powerful insights about the relationship between strength and tragedy—and finding reason to celebrate even in the presence of war, difficulties, and death. Rooted in myths that can be traced to the Grebo tradition, Becoming Ebony portrays Liberian-born Wesley's experiences of village talk and civil war as well as her experiences of the pain of her mother's death and the difficulties of rearing a family away from home in the United States, and explores the questions of living in the African Diaspora. Turning on the African proverb of "the wandering child" and the metaphor of the ebony tree—which is beautiful in life and death— these poems delve into issues of human suffering and survival, plainly and beautifully chronicling what happens "after the sap is gone."
Praise For Becoming Ebony (Crab Orchard Series in Poetry)…
"Wesley writes with clear-eyed lyricism about her ruthless and beleaguered homeland, and the bittersweet relief and loss of the diaspora. Her poems are scintillating and vivid, quickly sketched fables shaped by recollections of childhood playmates, moonlight and ocean surf, hibiscus hedges, and big pots of boiling soup. But these paeans to home blend with percussive visions of falling rockets and murdered children, sharp recollections of hunger and mourning, and a survivor's careful gratitude in a land of cold winds and rationed sunlight, her carefully measured memories and cherished dreams of return."
—Booklist (starred review), Spotlight on Black History
"[T]he strength of this collection is that it does not allow itself to wallow in the bleakness of sentiment. . . . In almost every section of the book, the reader is faced both with the brutal realities of life in parts of the world, and the lyric's possibilities for delineating a space that can act against them."
—Publishers Weekly
"Patricia Jabbeh Wesley's lush collection of poems Becoming Ebony is in many respects a memoir of the life she lost when she was forced to flee Liberia because of war. Naturally, a longing for family and the familiarity of home permeates this book. However, this is not simply a poetry of mourning or an excursion into some wistful fantasy of an African life. We are given a complex view of a society that was unmade by political convulsion and the resulting violence. Consequently, there is a meditative seriousness throughout. But these poems are shaped by combinations of humor, sharp sass, and anger and are conveyed with the kind of frankness and warmth that two friends share when they haven't seen each other in years. Another feature of this collection is Wesley's deft exploration of the quieter frictions between women and men, which clearly transcend national and cultural boundaries. I turn to poetry for the chance to see the difficult world rendered clearly and made bearable again. Becoming Ebony is a book that does this generously."—Tim Seibles, author of Hammerlock and Hurdy-Gurdy
"The poems of Patricia Jabbeh Wesley are fearless, eye-opening, breathtaking, and compassionate. She writes of a homeland devastated by war and violence, of a culture's survival beneath the flames of that war, and of the everyday courage of people whose stories would be lost if not for these poems. Wesley writes of her Liberia with urgency and with artistry, in poems that remain in the mind and heart long after the reader has closed Becoming Ebony. These are political poems in the best sense of the word—wise, necessary, undeniable."—Allison Joseph, author of Imitation of Life and In Every Seam
Southern Illinois University Press, 9780809325177, 96pp.
Publication Date: March 12, 2003
About the Author
Patricia Jabbeh Wesley was born in Tugbakeh, Maryland County, Liberia, and grew up in Monrovia. She is the author of Before the Palm Could Bloom: Poems of Africa, which retells her experiences in the Liberian civil war. Her work has appeared in The Cortland Review,Crab Orchard Review,Midday Moon, and New Orleans Review. She lives with her husband and children in Kalamazoo, Michigan, where she teaches creative writing and African Literature at Western Michigan University.
or
Not Currently Available for Direct Purchase