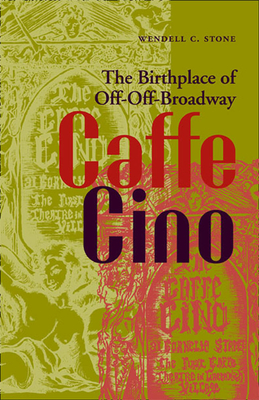 Caffe Cino (Paperback)
The Birthplace of Off-Off-Broadway (Theater in the Americas)
Southern Illinois University Press, 9780809326457, 264pp.
Publication Date: June 8, 2005
* Individual store prices may vary.
Description
"It's Magic Time!" That colorful promise began each performance at the Caffe Cino, the storied Greenwich Village coffeehouse that fostered the gay and alternative theatre movements of the 1960s and launched the careers of such stage mainstays as Sam Shepard, Lanford Wilson, Robert Heide, Harry Koutoukas, Robert Patrick, Robert Dahdah, Helen Hanft, Al Pacino, and Bernadette Peters. As Off-Off-Broadway productions enjoy a deserved resurgence, theatre historian and actor Wendell C. Stone reopens the Cino's doors in this vibrant look at the earliest days of OOB.

Rife with insider interviews and rich with evocative photographs, Caffe Cino: The Birthplace of Off-Off-Broadway provides the first detailed account of Joe Cino's iconic café theatre and its influence on American theatre. A hub of artistic innovation and haven for bohemians, beats, hippies, and gays, the café gave a much-sought outlet to voices otherwise shunned by mainstream entertainment. The Cino's square stage measured only eight feet, but the dynamic ideas that emerged there spawned the numerous alternative theatre spaces that owe their origins to the risky enterprise on Cornelia Street.

About the Author
Wendell C. Stone teaches in the Department of Mass Communication and Theatre Arts at the State University of West Georgia. His articles have appeared in Twentieth-Century American Dramatists, Text and Presentation, and Notable Gays and Lesbians in American Theater History.

Praise For Caffe Cino: The Birthplace of Off-Off-Broadway (Theater in the Americas)…
"This remarkable, informative, and entertaining book is essential reading for anyone interested in the theatre of the twentieth century. Joe Cino and his 'magical' Caffe Cino were at the epicenter of the breakthrough revolutionary spirit of the 1960s in terms of the important theatre movement that came to be known as Off-Off-Broadway. A good read. Go for it."—Robert Heide, playwright and author of The Bed and Moon
"It is very unnerving to read a book about a phenomenon central to your creative life only to discover the author knows more about it than you can remember yourself. Wendell Stone's book is breathtaking in its perfect depiction of a special place and a magic time. I am tempted to walk down to Cornelia Street to see if, like Brigadoon, the Caffe Cino lives again."—Doric Wilson, playwright and author of Street Theater, Forever After, Now She Dances! and A Perfect Relationship
"Wendell Stone has gathered the facts and fictions, the lies and legends, the elusive chronology and the effusive mythology of the most wonderful place of all time and arranged them with precision and perspective. I learned a throng of things I never knew about the Caffe Cino from this bountiful book."—Robert Patrick, playwright and author of Kennedy's Children, Temple Slave, and Film Moi: Narcissus in the Dark
"Stone's definitive history provides not only a detailed chronological production history of Joseph Cino's café theatre, but also broaches the subtle social, economic, political, and theoretical contexts that gave rise to the Off-Off-Broadway world of coffeehouse theatres. This study will delight scholars of American theatre and also serves as inspiration for emerging playwrights, directors, and actors who are searching for a historical context for their own careers."—David A. Crespy, author of Off-Off-Broadway Explosion
or
Not Currently Available for Direct Purchase