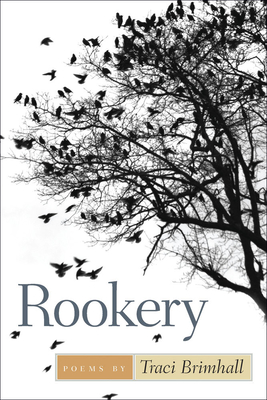 Rookery (Crab Orchard Series in Poetry) (Paperback)
Southern Illinois University Press, 9780809329977, 96pp.
Publication Date: October 21, 2010
* Individual store prices may vary.
About the Author
Traci Brimhall, who received her MFA from Sarah Lawrence College, recently completed a Jay C. and Ruth Halls Poetry Fellowship at the University of Wisconsin–Madison. Her poems have appeared in New England Review, Virginia Quarterly Review, FIELD, Southern Review, Indiana Review, and other journals.
Praise For Rookery (Crab Orchard Series in Poetry)…
"With a stunning mastery of metaphor, linguistic precision, and a soulful determined vision, Brimhall's work reveals an artist tuned to the significance of everyday experience, from the panicking heartbeats of birds to the spiking pulse of mice." -Dorianne Laux, author of Facts about the Moon: Poems
"This emotionally articulate, intense debut gives us the myth of self in its various incarnations: elegiac, surreal, meditative, erotic, dreamlike. I love [Brimhall's] luscious verbal texturing and lyric slipperiness, an assertive voice, a sensuality, a glow. A beautiful book." -Ilya Kaminsky, author of Dancing in Odessa
"The poems in Traci Brimhall's Rookery make beautiful the brutal as she casts an uncompromising eye on the vagaries of faith, the disappointments of the human heart-and the uneasy interstices between animal consciousness and ours. . . . Part incantation, part lamentation, the language in these poems is sensual and urgent." -Claudia Emerson, author of Figure Studies: Poems
120Normal0falsefalsefalseEN-USX-NONEX-NONE
OF NIGHTINGALES AND HUMMINGBIRDS By Barbara Goldberg
Traci Brimhall, Rookery, Southern Illinois University Press, 2010, 79 pages, paper.
Dora Malech, Say So, Cleveland State University Poetry Center, 2011, 77 pages, paper.
Traci Brimhall and Dora Malech are two young women at the outset of their writing careers. Both have impeccable credentials. Brimhall, a for­mer Jay C. and Ruth Halls Poetry Fellow at the Wisconsin Institute of Creative Writing, received the 2011 Barnard Women's Poetry Prize for Our Lady of the Ruins (forthcoming from W.W. Norton). Malech, with an MFA from the University of Iowa Writers' Workshop, was recently hon­ored with a Ruth Lilly Poetry Fellowship from the Poetry Foundation. Yet they are driven by opposing forces: Brimhall believes in the power of narrative and Malech in the power of sound.
Brimhall's poems have compelling narratives and complex charac­ters. While merciless when it comes to her own nature, she is generous about the flaws in others. The question of motivation interests her. Ma­lech' s poems take you on a joyride. She is more intrigued in the connection between river and rivet than between river and stream. Narrative is not just obscured, it is eclipsed. She's not after insight. She's after insurrection.
Traci Brimhall's poems will split your breastbone and break your heart. They are that beautiful, that brutal. Her book Rookery opens this way: "Come back to bed,... I won't hurt you" ("Prayer for Deeper Water"). She then proceeds to hurt us by exposing the cruelty and grief residing in the human heart. These words of seduction and warning, I won't hurt you, test our willingness to enter a world where fear and mystery, terror and beauty, engage in a mighty struggle for our souls.
The husband/lover responds by stating that he hates all women, except those "who've never heard / the frightened, wingless birds / / in their chests singing so they may be found" ("Prayer for Deeper Water")-- in short, women who do not know terror. Brimhall's speaker is well acquainted with terror: she absorbs it the way the color black absorbs light. She doesn't wear it lightly, unlike "the other woman," who sports a chrysanthemum tattoo on her lower back, and whose "dress slid from her body like smoke." The speaker is beyond feeling betrayed. "I make you tell me / how her pleasure sounded—a fox with its paw / in a trap's jaw " "" And again, "I want to stroke her curls with you. " ." And more: "I let you kiss me so I can get close enough to find her / smell on your body" ("Aubade with a Fox and a Birthmark").
The other woman is not the enemy—it's that the man, struggling for salvation, believes sex can bring him closer to God. "You think sex is a sacrament, the host / / in your mouth. Blood on your tongue" ("Aubade with a Fox and a Birthmark"). But the speaker has no need for his kind of God. She doesn't need to travel so far: "Even the shape of your mouth is a miracle, even your two bruised eyes." She accepts his bruises, his suffering, without being overwhelmed. "Forget all the women who've summered under you," she says. They provide a pleasure almost weightless. They are not burdened by the heavy baggage of grief. Instead, she exhorts him to walk back into the darkness "you were broken from" ("Prayer for Deeper Water").
Brimhall writes "broken from," not 'born from." We are all broken and broken from the primordial dark, the chaos that existed before cre­ation—we are part of it, the darkness that preceded the light that split the world in two. For Brimhall, darkness is holy, holier than God. It is rich with possibility. It is "the darkness you guard, which is also the darkness / you're scared of, which is the same darkness in the heart's 1/ unfurnished rooms" ("Nocturne with Clay Horses"). It is the kind of dark that is the origin of the music Emily Dickinson refers to in "Split the lark ."
Brimhall's way is to dwell in that dark, no matter how painful, and learn to love both terror and mystery. Terror has value. That's why she wants to see an avalanche hurtling toward her, because terror brings "my soul to the surface of my body" ("Prayer for Sunlight and Hunger"). There are other ways to touch the soul; spirit "wants to be locked in the cru­cible of flesh until the soul burns clean" ("Discipline with Lines from First Corinthians"), but she does not believe that is what flesh is for. She wants doubt to ease the ecstatic fire.
The speaker understands why her husband/lover must leave her— because she is water, not fire: "Because she has a jungle inside her and two savage rivers. Because the flood season never left her." She lays herself bare; she is just too much. "When you flicked me, I could feel / how much you hated me. And you came. And I came twice" ("Aubade in Which the Bats Tried to Warn Me").
The beauty and brutality in Brimhall's poems also apply to land­scapes. The lushness of a Mississippi summer, the brown waters of the Amazon, the smell of mud, taste of snakes, snapping turtles, bats, in­fected frogs, scorpions, macaws that mate for life: "If one dies, the other collapses its wings, plummets to earth" ("Why He Leaves").
In the end, Brimhall casts aside the missionary zeal that was part of her growing up years. She isn't waiting for the Messiah's return. Epipha­nies are found in avocados, birds, pound cake and peaches, in ordinary wonders: "My Lord, my heart / is insatiable. Leave me / here among the ordinary wonders" ("Prayer for Sunlight and Hunger"). Ordinary won­ders like Venice: "Tell me heaven will be like Venice—dirty, beautiful / and sinking" ("Prayer to Delay the Apocalypse").
It should be mentioned that this book contains five aubades (morning love songs, usually about lovers separating at dawn) as well as prayers, nocturnes, an elegy, and a requiem and four definitions of the noun rookery, which serve as mini "overtures" to the four sections of the book.
              If Traci Brirnhall's poems burrow in the dark to find gold, Dora Malech's play hopscotch all day long. Take "Love Poem": here she is sweet-talking her lover, calling him a "one-trick pony to my one-horse town, / ...my one-stop-shopping, my space heater, / juke joint, tourist trap, my peep show, my meter-reader...." And Malech is just warming up:
Tell me you'll dismember this night forever, you my punch-drunldng bag, tar to my feather.
More than the sum of our private parts, we are some peekaboo, some peak and valley, some
bright equation (if end then but, if er then oh). My fruit bat, my gewgaw. You had me at no dub.
Dismember this night forever? The sum of our private parts? My gewgaw? Malech has a ball with the language. And she throws it in our court. Her craft is crafty—her wit anything by witless.
And she has perfect pitch. Try reading some of Matech' s poems aloud for the sheer pleasure of it -the rhythms are staccato, the music pizzicato. Her words jump off the tongue—which, by the way, can be found "behind the deli counter" ("Some Speech").
Malech's words aren't arranged in an arbitrary manner. Her asso­ciations are based on sound, juxtapositions, point-counterpoint, on puns. Here is Malech defining a poem as a "pound puppy / whimpering for love" ("Some Speech"). There's truth in that statement, but it's told slant. In "Lying Down with Dogs," Malech riffs some more on doggy imagery:
Miss stay, miss beg. Mistake the clock's tick-tock for some syn­ecdochetic-tocking heart. No such touch as specious scratch of scruff or tummy. Name the litter after our best senses Salty, Sweet, Sour, True and False. Lexiconic misprojections, good is good for ours and only, subspurious as in—if that's a puggle, my Grandpa's a cockapoo. Grandma's a labradoodle.
          This doesn't make sense, and yet it does. As she says, our "best senses" include True and False. And at some level, it feels true to the nature of dogs and to men and women. It's all a "puggle," which sounds suspiciously close to "puzzle."
In "Relatively Long Arms," Malech is about as close as she gets to a "relationship" poem: "...brought him a present, unwrapped the itch / I made from scratch. Longing's been / a long time coming. Ask me f / we're nowhere yet. Earth? Old girl got / the spins...." The title of Malech's book, Say So, hints at what we can expect: who says so? Say "so." Because I say so. And so it is.
This is not to imply that Brimhall doesn't love language. On the contrary—her lines are fluid, written with precision and clarity, each word locked into place. Nor that beneath surface acrobatics Malech's poems don't bite or illuminate. They do. As much fun as they are, there's a lurking sadness putting on a brave face: "Today's / family is a mouthful: moth, farther, / bother, cistern. Look. There's / the orphan's orphan boarding a bus" ("Spectrum").
Malech is well aware that while the spotlight may shine on a tight­rope walker performing without a net, overhead there is still the immense dark. The best defense is to "kiss furiously under the black mask of the sky" ("Body Language"). Her relationship with the dark is to poke fun at it, to stick out her tongue.
Each book, in its inimitable way, refuses to shy away from meta­physics. Brimhall's is suffused with religiosity. She says she doesn't believe in God, yet she defies Hirn every day. As for Malech, best not to be too greedy: "I dare not ask for fruition, rather, pray for fruit...." ("Body Language"). She has big dreams and big aspirations, but small hope. All she asks for is this: "God, grant me small changes." That would be quite sufficient.
         These are not books to be read lightly , nor in one sitting. Rather, savor the imagery and the language: lush and fertile, gorgeous and grotesque. In Brimhall and Malech we have two 2 Pt-century American women poets representing diametrically opposed artistic camps, each with a distinct view on the relationship between poet and reader. A reader may be drawn to one, or the other, or both. Think Elizabeth Bishop and Gertrude Stein. Think Robert Frost and Wallace Stevens. Better yet, think nightingale and hummingbird.
— Barbara Goldberg